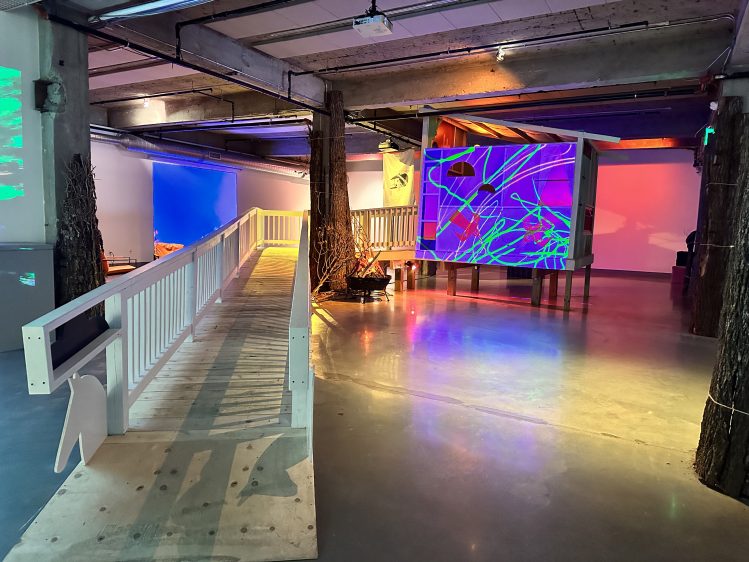 Artist Sarah Rowe Showcases First Solo Show at KANEKO
December 16th, 2022
KANEKO Art Museum is an Omaha-based cultural organization, founded with the journey to investigate and explore creativity across the whole spectrum of human activity. This includes art, science, philosophy, entrepreneurship, urban planning, and education.
Now, it's artist's Sarah Rowe's turn to feature her work at KANEKO, with the exhibition gallery she titled, "Post."
Rowe is a multimedia artist located in Omaha. She started her artistic journey at Webster University in St. Louis. Her work typically opens cross-cultural dialogues by utilizing methods of painting, casting, fiber arts, and performance. When it came to creating "Post," she wanted to find a way to level up the immersive experience. With a soundscape playing throughout the exhibit and different artistic projections being cast along the walls of the gallery, Rowe has created a space that when entered, the viewer becomes transported to the forest. Rowe isn't new to displaying art at KANEKO, she's also participated in some group collaborations here, as well.  
"Post," just so happens to be Rowe's first solo show featured at KANEKO. The idea for this show came to Rowe in quite an unconventional way. After being hospitalized and almost losing her life to the Corona Virus, Sarah lost the ability to see color. Thankfully, she recovered from the virus. This frightening experience inspired Rowe to get in touch with her inner-child, and make a peaceful, colorful escape for others to use as a gateway to connect with their inner-child, too.  
Besides at KANEKO, Rowe currently has a few other shows up through the end of the month. She has a show called "Lyric," at the Generator Space, Amplify Arts' gallery in Omaha. You can also find some ongoing works of hers at Family of Things Shop in Little Bohemia. After working here for almost two decades, Rowe says collaborations and building a sense of community is extremely important to her. 
Sarah Rowe invites the community to come experience "Post" At KANEKO. It's available for public viewing now, and runs until April. Admission is free, viewing hours are Thursday-Saturday from 1-7 p.m. and Sunday from 1-6 p.m. "Post" is an experience that is constantly changing, guaranteeing to give viewers a truly unique, immersive experience.