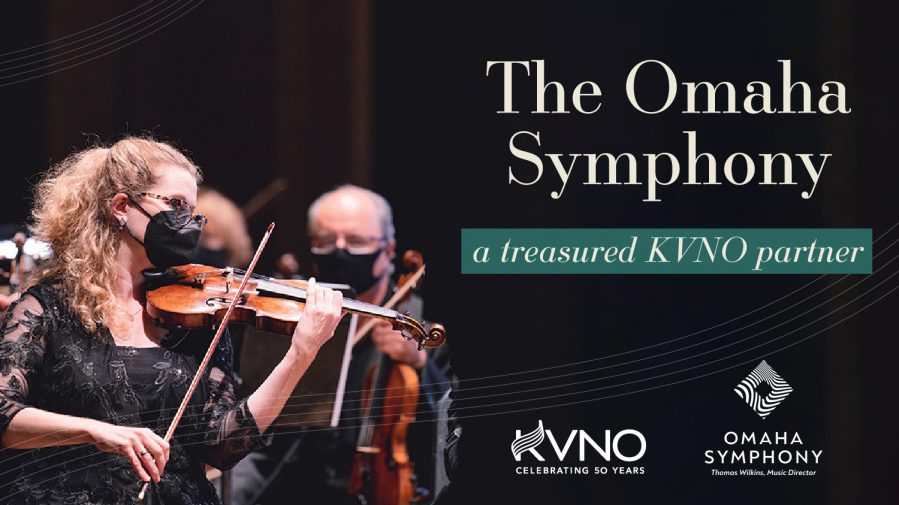 The Omaha Symphony – a treasured KVNO partner
The Omaha Symphony's mission is to enrich people's lives through the exhilarating experience of live orchestral music. Of course, KVNO and the Omaha Symphony have a natural affinity, and we are proud to partner with them on a variety of programs and projects on and off the air.
In Concert with the Omaha Symphony
KVNO regularly airs past seasons from the Omaha Symphony. We're currently airing the 2020/2021 season. The Omaha Symphony was one of the few orchestral organizations to continue operations throughout the pandemic, however, the concerts were shorter than other seasons. Consequently, for this In Concert series, we've created compilation programs that draw from all the concerts performed that year to create eight full programs. Otis Twelve hosts this stellar program, produced by KVNO, and featuring our Omaha Symphony.
June 5 – July 24 on Sunday's from 1 to 3 p.m.
June 5, 2022 – Omaha Symphony Chamber Concert #1
Rossini: Duet for Cello & Bass, Movement 1 (February 2021)
Winston Schneider: The Summer of COVID-19 (October 2020)
Reger: Lyrisches Andante (February 2021)
Nielsen: Serenade in Vain (February 2021)
Beethoven: Septet (October 2020)
Encore: Tchaikovsky: Symphony No. 5 in E Minor (May 10, 2019)
June 12, 2022 – Omaha Symphony Orchestral Concert #1
From November 2020, Conducted by Thomas Wilkins:

Dukas: Fanfare to La Peri (November 2020, conducted by Thomas Wilkins)
Haydn: Symphony No. 83, "The Hen"

From March 2021, conducted by Stilian Kirov

Piston: Concertino for Piano & Orchestra, featuring Christi Zuniga
William Grant Still: Mother & Child
Haydn: Symphony No. 104

Encores:

Ravel: Introduction & Allegro (January 11, 2019)
Weber: Overture to Der Freischutz (March 1, 2019)
Symphonic Sunrise
Get a daily dose of the Omaha Symphony on Symphonic Sunrise, weekdays at 7:10 a.m. on Morning Classics with Otis Twelve.
Live Symphony Broadcasts
KVNO, Omaha's Classical Radio, is proud to partner with the Omaha Symphony to bring you world-class classical music. Upcoming live broadcasts include:
Check back regularly to see more information about our live broadcasts.