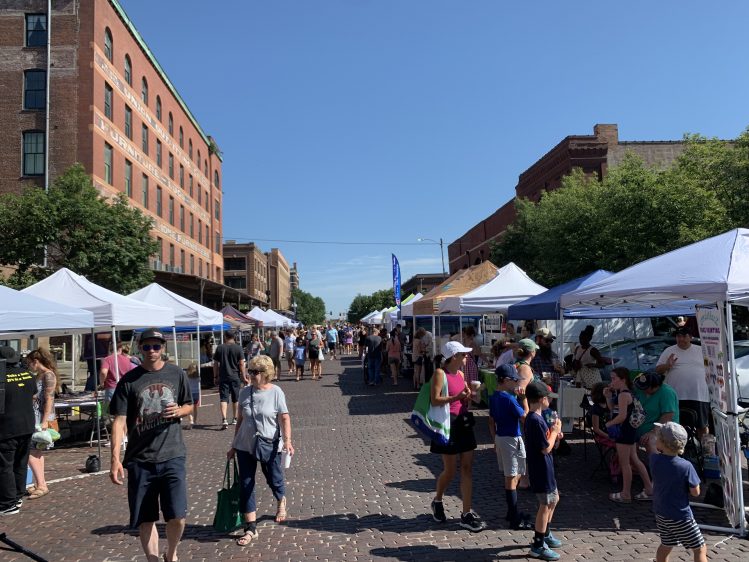 Friendships and connections through farmers market art
July 25th, 2022
For two years now, Ruth Nash has been selling candles, both at the Old Market farmer's market and in her shop, The Light Candle Company.
Her products include soy wax candles, bath bombs, sugar scrubs, bath salts and incense, all made by hand.
When she first started making candles, Nash said they were meant to be symbolic, and that is where the name, The Light, came from.
"I was going through a little bit of depression," Nash said. "So when I had a group of people that helped me get out of it, I wanted to make a symbol of what those people were to me, a little something physical, tangible. So these candles are representations of the things that people are to each other."
Another artist at the farmer's market, Alicia M. Brady, works as a professional photographer. At her booth, visitors can find prints that she has taken almost entirely in Nebraska and Iowa.
About two months ago, she opened her booth to another local artist, Christine Cline.
"She came over and started telling me about her artwork. I wasn't really listening. And she's like, "I'd like to sell some of my art", and I was like, "All right, come back," and kind of forgot about it," Brady said. "But she showed up the following week. She had to remind me, and I was not expecting what she pulled out."
Cline specializes in pointillism art. As the name suggests, all of her pieces are made entirely of small dots. Cline said a picture measuring about 8×10" can take her up to two months to make.
"I'm self-taught," Cline said. "I hear a lot of people say they took it in school; I did not. I've tried for decades to find a way to break into the market. She offered to share a booth and I said that's all I need. I don't have anything, but I've done the work.
Brady said she's always looking for new connections, and to give Cline a chance to show her work at the farmer's market felt like a great connection and opportunity for them both.
Unknowingly, the two have embodied Ruth Nash's favorite saying.
"Remember to be a light to someone today. You never know what you can say or do to someone that can change their whole situation."
You can find each of these artists and more at the Old Market farmer's market each Saturday through Oct. 15.