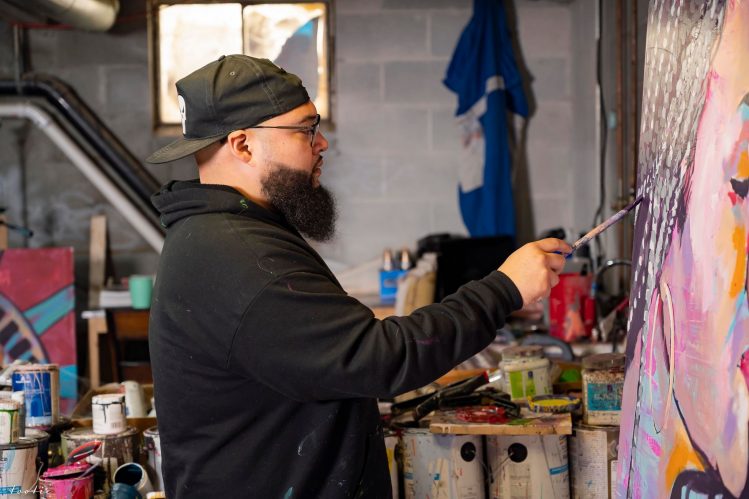 Covid – Nightmare and a Beautiful Dream For Dany Reyes
January 14th, 2022
OMAHA-About a year ago, KVNO interviewed local artist Dany Reyes. At the beginning of the pandemic, Reyes began to consolidate his career as an artist with his painting style. Covid-19 took Reyes to the emergency room seriously ill. In his hospital stay, he only had one thing on his mind…faith.
Recalling a bit of Reyes's background, his single mother raised Reyes and his sister, fled the civil war in El Salvador that lasted from 1961 to 1989. They arrived undocumented in Los Angeles, CA when Reyes was only four years old.
Reyes's mom couldn't buy them toys and that's when he started drawing superhero characters. Sometime later, Reyes' mother arrived in Omaha looking for a better way to provide for her children. Reyes and his sister stayed in California in the care of a relative.
When Reyes reunited with his mom in Omaha, it was a cultural shock to him. But those life changes shaped his painting style. Already in high school, the lack of legal documents to work in the United States caused Reyes' self-esteem to drop, he thought that he would not be able to do what he enjoyed… painting. The last job he had before deciding to paint full-time was as a crane operator.
After leaving the hospital he painted a nurse dressed in a superman attire, with a mask and her fist up in the air as a sign of power, and he donated it to the Nebraska Medicine Family at Belleview, where he recovered from Covid-19.
A few days later that painting went viral on social media, the painting, and the story behind it amazed people at the hospital. It was then when commission poured in for Reyes. A year later and with the struggles of the pandemic, Reyes continues strong with his career.
Reyes paints three or four days a week, and when he's not painting he's printing and making trips to the post office, sending his art all over. The sales of his art provide for his family, Reyes is married and raises three children.