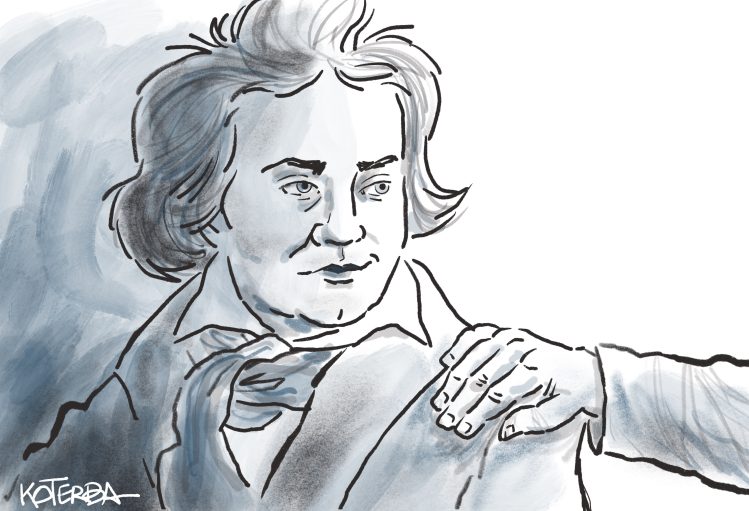 You've Got a Friend, Beethoven
May 8th, 2023
I have a small plaque on my refrigerator, lovingly sent to me by a longtime friend, that says, "They say, friends are hard to find. Luckily, I know where you are!"
The longer I live, the more I understand the importance of close friends. Marriages end, and spouses pass away. Children grow up and are gone. Your nest empties. Good friends are your last refuge on this earth against loneliness. You turn to them in your worst moments. And the really true friends are there for you.
I love reading about the lives of great composers, and about their personal relationships. When I read about the incredibly difficult life Beethoven lived, his deafness, the loneliness and isolation he must have felt, and his astonishing musical achievements despite these problems, I'm convinced that close friendships must have helped see him through his darkest moments.
Beethoven had a circle of friends, and benefactors. One of them especially worth knowing about was Czech piano virtuoso and composer Ignaz Moscheles (IGG-nahtss MAW'-shuh-luss). This 19th Century musician befriended Ludwig Von Beethoven early in his career. Moscheles was an early admirer of Beethoven's piano music, when it was considered radical. And no matter how much his Prague Conservatory teachers tried to discourage his interest, Moscheles was fascinated by Beethoven's originality.
 Moscheles came to Vienna in 1808, became a leading piano virtuoso there, and several years later, finally met his idol. Beethoven was so impressed with Moscheles' abilities that he hired him to prepare the piano score of his opera Fidelio. Moscheles' close, cordial friendship with Beethoven lasted Beethoven's lifetime, and beyond. Moscheles moved to London in 1825, but time and distance did not change the relationship. They frequently stayed in touch.
In 1827, Beethoven was dying and desperately needed money. He reached out to Ignaz Moscheles, who approached England's Royal Philharmonic Society, convincing them to send Beethoven funds. And they did. A grateful Beethoven died shortly after.
When I lost a spouse, a close friend sent me a card that said, "Wherever a beautiful soul has been, there is a trail of beautiful memories." Wherever a great composer has been, there is a trail of magnificent music. Beethoven was gone, but Ignaz Moscheles never stopped promoting Beethoven's music, performing and conducting his friend's works for the rest of his life. He also translated A.F. Schindler's biography of Beethoven into English.
When Moscheles died in 1870, he was remembered as a kind and generous person, a renowned pianist, teacher, conductor and musical pioneer, and as someone who worked hard to help keep his friend Ludwig von Beethoven's memory and music alive, which is one of the reasons why he's a composer you frequently hear on KVNO.