Join KVNO in Celebrating 18th Century Composer Joseph Bologne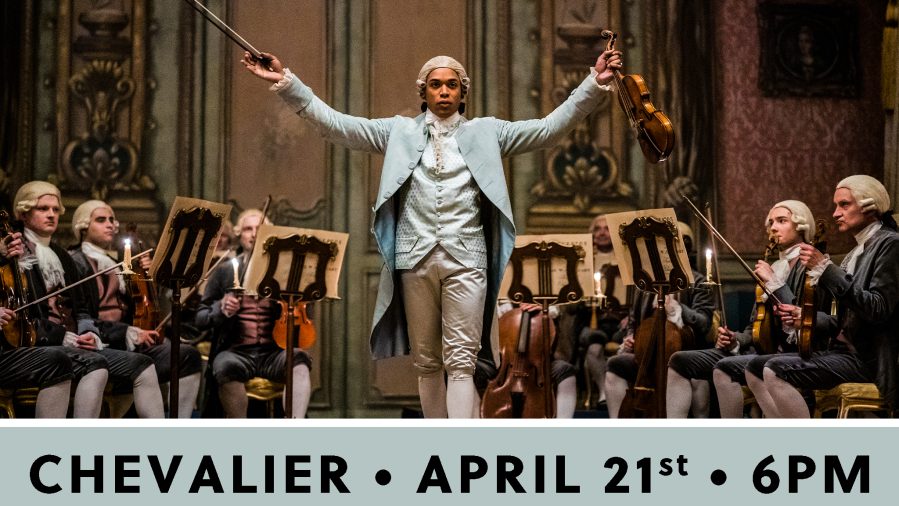 This event is sold out!
KVNO and friends are joining together for an exciting and memorable movie event – the Omaha premiere of Chevalier, a movie that celebrates 18th century composer Joseph Bologne, Chevalier de Saint-Georges.
If you have a ticket, please plan to come early for parking, to get concessions and find a seat (tickets are general admission). Here are a few other fun things to enjoy:
Displays that celebrate his life and achievements.
Curated specialties from Lola's at Film Streams.
Live performance of the Chevalier's compositions as you enter the theater.
$2 off concessions coupons at the KVNO table
Stay for the panel discussion after the film. See the panelists below.
Panel Discussion
Moderated by Jeff Koterba
Jeff Koterba is an award-winning cartoonist whose work appears in over 800 newspapers. His original drawings have flown on space shuttle Discovery and have been exhibited in Paris, and elsewhere in France. He also hosts Wednesday's edition of Morning Classics on Omaha's Classical 90.7 FM and fills in whenever Otis Twelve is away.  An avid Frech-language learner, Jeff is the founder of a weekly French practice group in Omaha and is also a board member for Alliance Française Omaha.
Andrea Joy Pearson
Andrea Joy Pearson is a nationally recognized Belonging and Inclusion strategist and Creative Producer who is committed to helping herself and others walk in their power and utilize their space to live more full and successful lives. She champions honesty, vulnerability, and courage to foster high performance in work and life by reframing possibilities and perceived boundaries. Her body of work demonstrates that Diversity, Equity, and Inclusion thrives in action today!
As the CEO of Joy Brings Light, Andrea Joy advocates for the cultivation of spaces where everyone feels they have the opportunity to bring their best and most authentic selves to the table. She specializes in Motivational Speaking, Creative Production, Community Engagement, and Sound and Meditation facilitation. Andrea Joy earned her Bachelor of Arts degree in Voice Performance from Oberlin Conservatory of Music and her Master of Music in Voice and Opera from the University of Kentucky. Additionally, she is certified in Human Resources Management and Diversity, Equity, and Inclusion in the Workplace.
Dani Meier
Performing double duty as musician and management, Dani Meier is VP of Artistic Administration and a section Double Bassist at the Omaha Symphony. She programs and coordinates repertoire, artists, and conductors during the day, and sits with the low strings in the evening – a combination that makes her very happy. Originally from Wilmington, Delaware, Dani is a graduate of the Indiana University Jacobs School of Music and earned her Bachelors and Masters degrees in Music Performance studying with Lawrence Hurst. She's been fortunate to perform as a soloist, chamber musician, educator, and was once invited – perhaps accidentally – to be a conductor for a high school orchestra clinic. Dani is also Board President of the Omaha Chamber Music Society. Outside of music, Dani enjoys working with animals, specifically herding she and her husband's cats, and lifting semi-heavy things that aren't her own instrument.
Jade Rogers
Jade R Rogers is a Historian, professor, and the Founder and Chief Innovation Officer of The House of Afros, Capes, & Curls. With over 20 years of teaching and community engagement experience, she is passionate about building community and illuminating the tremendous contributions and accomplishments of African Americans in the Midwest. Her historical research spans local, regional and US history as well as 18th century Caribbean History and the lives of enslaved people, including the life of Joseph Bologne, Chevalier de Saint-Georges, And…she's a nerd at heart. Science fiction, fantasy, World of Warcraft, The Sims, and Octavia Butler. Star Wars + Star Trek + the X-Men hold equal space in her heart.
Steven So Cold Nelson
Steven was born and raised in north Omaha but was very curious and had many dreams of becoming a robotic engineer, scientist, architect, and artist. He joined the Army a year after graduating to escape being a high-risk black male and to seek opportunities. His main job was Satellite Communications; however, he soon began boxing and quickly excelled as a top amateur. He became part of the Army World Class Athlete Program boxing team and a member of the 2012 Olympic team. So Cold is now a professional boxer with a record of 18-0 (15 KOs) and the executive director of B&B Sports Academy. Throughout his life he's picked up different life skills such as barbering, mechanic, playing the drums, carpentry, painting portraits, tattooing, making custom boxing uniforms, and stand-up comedy. Most recently he's been working towards his pilot's license.