Welcome to the KVNO Arts Calendar!
 — dedicated to promoting the growth and appreciation of the arts in the Omaha community.
A Ghostly Gathering
October 15 @ 3:00 pm

-

5:00 pm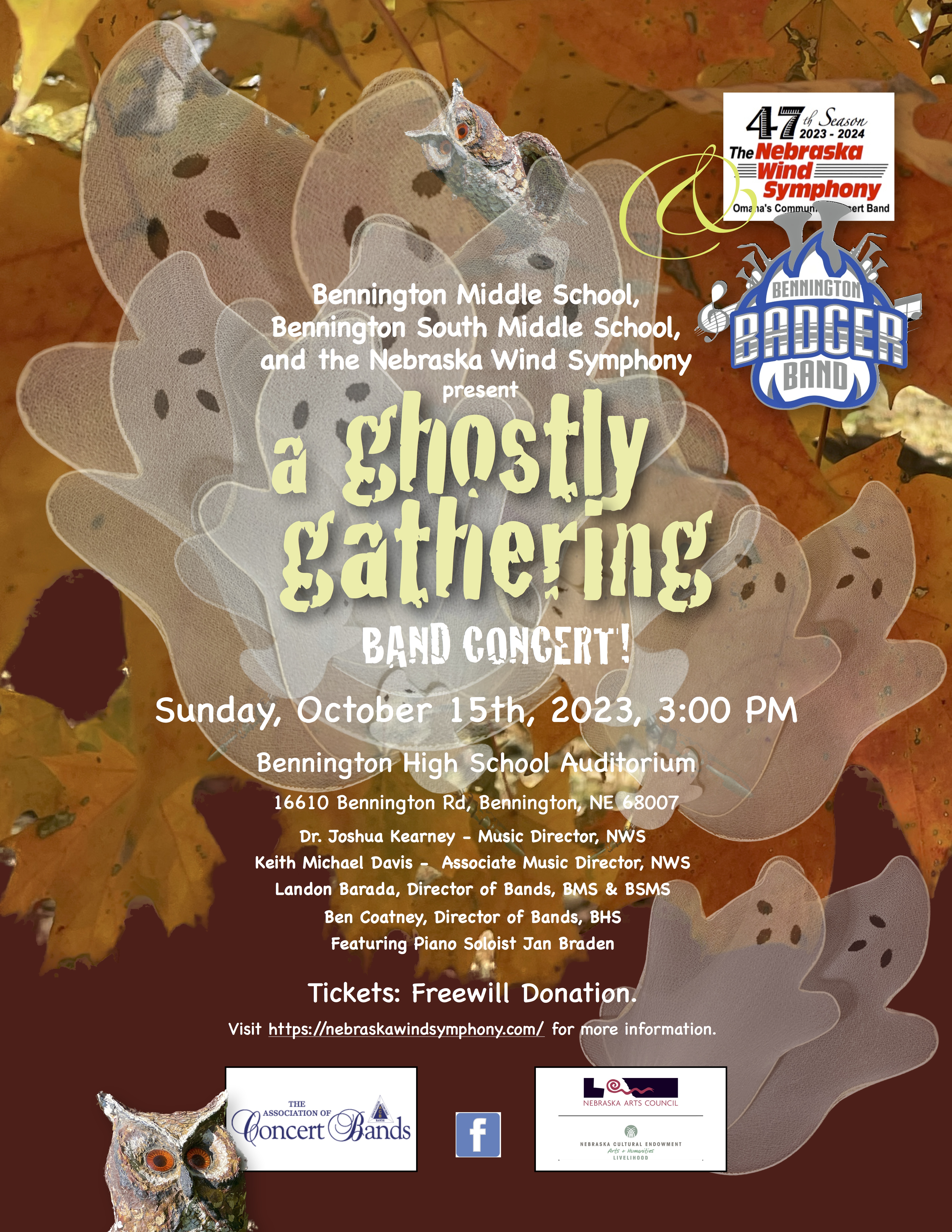 Our first concert of our 47th season is a special collaboration with the students at Bennington Middle School and Bennington South Middle School, directed by Landon Barada, member of the NWS. The event will be hosted at Bennington High School, and both Mr. Barada and Mr. Ben Coatney (director of bands at Bennington High School) will be guest conductors.
The program has a Halloween theme in appreciation of the season! The combined Bennington Middle and Bennington South Middle school bands will perform Thrill Ride by Brian Balmages; the always whimsical Hedwig's Theme by John Williams; Night Fury by Carol Britten Chambers; and finally rock it with Dr. Rockenstein by Steve Hodges. The NWS will join the combined Bennington bands to perform Dreamsong by Richard Saucedo, which will feature piano soloist Jan Braden, accompanist at Bennington High School, followed by the Nebraska premiere of Dance Of The Shadows by Adrian Sims. The Nebraska Wind Symphony will finish the concert with selections from the following: the delightful Noisy Wheels of Joy by Eric Whitacre; Ghost Apparatus by David Biedenbender; Hung Aloft the Night by Anthony O'Toole, conducted by Keith Davis; Gadget by Randall Standridge, conducted by Landon Barada; Nobles of the Mystic Shrine by John Philip Sousa; and Peer Gynt Suite by Edvard Grieg. Please join us for what is sure to be a celebration of musicianship at all ages!
Related Events
Don't see your organization's event?