Welcome to the KVNO Arts Calendar!
 — dedicated to promoting the growth and appreciation of the arts in the Omaha community.
El Niño: Nativity Reconsidered
December 11 @ 7:30 pm
$35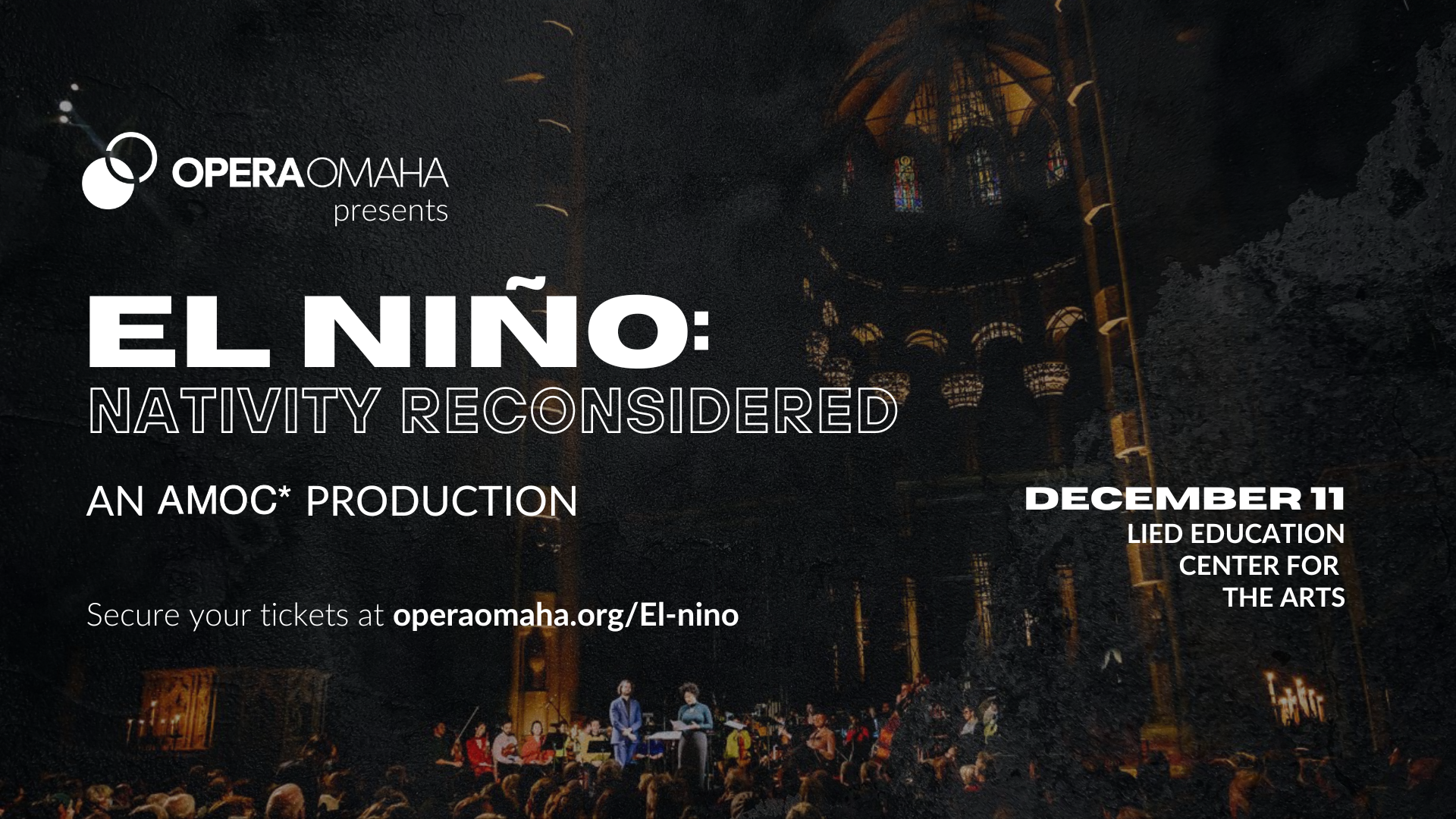 Opera Omaha is thrilled to host the American Modern Opera Company's performance of El Niño: Nativity Reconsidered.
This work, which is particularly resonant during the season of Advent, features world-class artists and the profound music of John Adams, AMOC*'s production of contemporary composer John Adams' El Niño: Nativity Reconsidered with libretto by Peter Sellars and concept by Julia Bullock is a chamber music arrangement created and conducted by Christian Reif. The New York Times calls it "intimate, affecting and quietly rich with activism." This rarely performed work envisions the nativity story though celebration of Latin American poets and voices of women. El Niño: Nativity Reconsidered ruminates on the notion that with the promise of new life, there is the equal threat of inexplicable violence and sacrifice. AMOC* will begin a national tour of El Niño: Nativity Reconsidered in Omaha, which will also include Stanford University and Yale University before returning to the Cathedral of St. John the Divine. A full staging of the production is scheduled to premiere at the Metropolitan Opera this spring, with some of the AMOC* members reprising their roles. The cast of this Christmas oratorio, an AMOC* production, features company members soprano Julia Bullock, countertenor Kyle Tingzon, bass-baritone Davóne Tines, violinists Miranda Cuckson and Keir GoGwilt, cellist Coleman Itzkoff, bassist Doug Balliett, percussionist Jonny Allen, pianist Conor Hanick, with special guests, including Jasmin White, contralto. ABOUT AMOC* AMOC* (American Modern Opera Company), founded in 2017 by Matthew Aucoin and Zack Winokur, builds and shares a body of collaborative work. As a group of dancers, singers, musicians, writers, directors, composers, choreographers, and producers united by a core set of values, AMOC artists pool their resources to create new pathways that connect creators and audiences in surprising and visceral ways.
Don't see your organization's event?