Welcome to the KVNO Arts Calendar!
 — dedicated to promoting the growth and appreciation of the arts in the Omaha community.
October 6th First Friday
October 6 @ 5:00 pm

-

October 7 @ 2:00 am

Free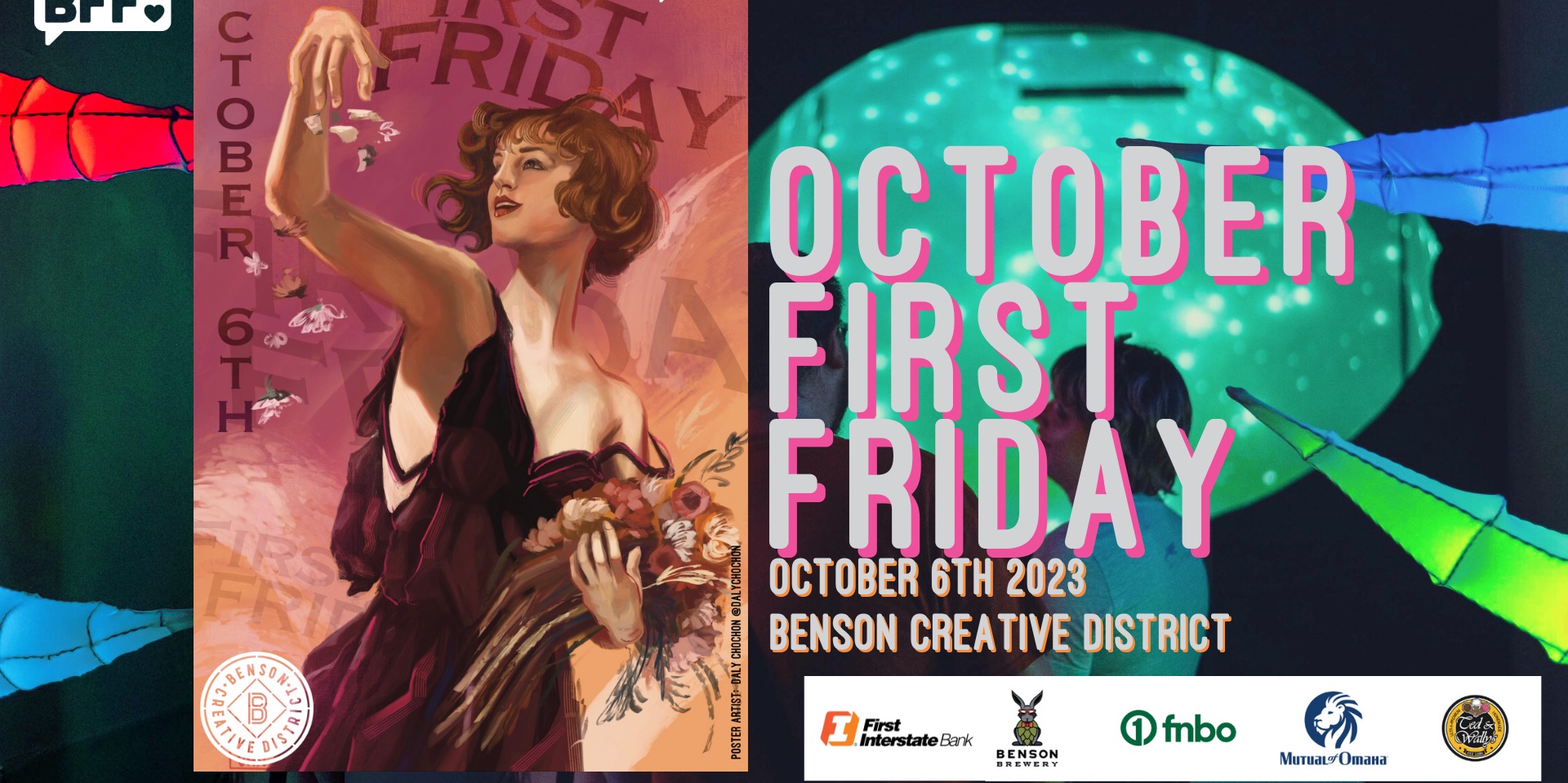 BOO! Surprise! It's Fall in Benson!Fall into the fun this First Friday in the Benson Creative District!
Introducing the Free Little Arts Center! Also known as FLAC, the Free Little Arts Center is located outside of Trudy's at 2814 N. 60th St, FLAC is a one stop shop for FREE art supplies! Brushes, paper, textiles and more are available free of charge to the community! You can also browse the zine library and check out original works of art in the FLAC galleries! This month's featured artist is Off.Primary who will be on hand to make buttons!
BFF INDOOR ARTIST MARKET!
BOO! GUESS WHO'S BACK! Indoor Artist Markets! Join BFF and 20+ artists and vendors in the Mercer Masonic Lodge for the BFF Indoor Artist Market! Browse some of your Benson favs and enjoy Breakfast at Night! Indoor artist markets run from 6 – 9, October thru April.
Benson Community Mural!
Stop by Trudy's to contribute to a Benson community mural that will make its way to the state capital! Leave your mark and show all of Nebraska why Benson is the best neighborhood in the state! Special thanks to Senator Megan Hunt for the opportunity!https://www.facebook.com/events/1045324643555914 𝐓𝐞𝐝 & 𝐖𝐚𝐥𝐥𝐲'𝐬 (6023 Maple St.)To Go Kits – ALL MATERIALS PROVIDED!Live Music fromFREE Scoop of Ice Cream for ALL Friend of BFF members EVERY #firstfriday  𝐒𝐮𝐧𝐝𝐞𝐞 𝐄𝐯𝐞𝐧𝐭 𝐕𝐞𝐧𝐮𝐞 (6007 Maple St)Pumpkin Painting and Carving 6PM – 8:30PM  𝐓𝐫𝐮𝐝𝐲'𝐬 (2814 𝑁. 60𝑡ℎ 𝑆𝑡.)Trudy's Open Studios feat: Aksarben Creative, Dark Marbles, Dan Cavanagh + VSmith Healing Art and Design+Grand Opening of FLAC, the Free Little Arts Center featuring work by Olivia Jarecki+Benson Community Painting with artist Mimi Yu  𝗕𝗙𝗙 𝗚𝗮𝗹𝗹𝗲𝗿𝘆 (5901 Maple St.)STAND // Joan Wilson Sangimino  𝐉𝐨𝐡𝐧 𝐉. 𝐌𝐞𝐫𝐜𝐞𝐫 𝐋𝐨𝐝𝐠𝐞 (5903 Maple St.)BFF Indoor Artist Markets 6 – 9PM  𝐂𝐡𝐨𝐢𝐜𝐞 𝐆𝐚𝐥𝐥𝐞𝐫𝐲 (5905 Maple St.)  𝐌𝐚𝐩𝐥𝐞 𝐒𝐭. 𝐂𝐨𝐧𝐬𝐭𝐫𝐮𝐜𝐭 (5901 Maple St.)  𝐑𝐚𝐝𝐢𝐚𝐥 𝐀𝐫𝐭𝐬 𝐂𝐞𝐧𝐭𝐞𝐫 (5915 Maple St.)  𝐓𝐡𝐞 𝐒𝐲𝐝𝐧𝐞𝐲 (5918 Maple St.)Friend of BFF Happy Hour featuring BLUBBER 6:00 – 7:00  𝐁𝐞𝐧𝐬𝐨𝐧 𝐓𝐡𝐞𝐚𝐭𝐫𝐞 (6054 Maple St.)Dracula 77https://www.facebook.com/events/3552400211698552/3552400218365218  𝐕𝐢𝐫𝐭𝐮𝐨𝐬𝐨 (6056 Maple St.)  𝐌𝐢𝐧𝐠 𝐓𝐨𝐲 𝐆𝐚𝐥𝐥𝐞𝐫𝐲 (6066 Maple St.)Josh + Shelby Audiss: La Femme Fantastique Opening Reception https://www.facebook.com/events/832206061778951  𝐋𝐞𝐠𝐞𝐧𝐝 𝐂𝐨𝐦𝐢𝐜𝐬 & 𝐂𝐨𝐟𝐟𝐞𝐞 (6068 Maple St.)  𝐄𝐝𝐠𝐞 𝐨𝐟 𝐭𝐡𝐞 𝐔𝐧𝐢𝐯𝐞𝐫𝐬𝐞 (6070 Maple St.)  𝐆𝐫𝐞𝐞𝐧𝐥𝐢𝐠𝐡𝐭 𝐍𝐚𝐭𝐮𝐫𝐚𝐥 (6112 Military Ave)  𝐒𝐭𝐚𝐫 𝐃𝐞𝐥𝐢 (6114 Military Ave)Shout, Speak, and Scream Queer: Group Exhibition  𝐉𝐚𝐤𝐞'𝐬 𝐂𝐢𝐠𝐚𝐫𝐬 (6206 Maple St.)Featured Artist: Foster Novotny  𝐄𝐝𝐰𝐚𝐫𝐝 𝐉𝐨𝐧𝐞𝐬 (6200 Maple St.)Featured Artist:  𝐍𝐞𝐛𝐫𝐚𝐬𝐤𝐚 𝐀𝐈𝐃𝐒 𝐏𝐫𝐨𝐣𝐞𝐜𝐭 (6220 Maple St.)Nap Gallery Hours 6pm – 8pmKink-Tober: after hours drag and burlesque 19+ 7 – 11pm  𝐁𝐞𝐧𝐬𝐨𝐧 𝐋𝐢𝐭𝐭𝐥𝐞 𝐋𝐞𝐚𝐠𝐮𝐞 (6902 Pratt St.)Sandlot Fun Days
Shoutout to this month's poster artist Daly Chochon! Thanks to Blick Art Materials for sponsoring our monthly posters! Visit Blick Art Materials for all your art supply needs! FIRST FRIDAY𝕆𝕌𝕋 𝔸ℕ𝔻 𝔸𝔹𝕆𝕌𝕋!𝐎𝐩𝐞𝐧𝐢𝐧𝐠𝐬 𝐚𝐧𝐝 𝐄𝐯𝐞𝐧𝐭𝐬: (𝟕 – 𝟏𝟎𝐩𝐦) 𝐏𝐞𝐭𝐬𝐡𝐨𝐩 (2727 𝘕 62𝘯𝘥 𝘚𝘵)𝐎𝐩𝐞𝐧𝐢𝐧𝐠 𝐑𝐞𝐜𝐞𝐩𝐭𝐢𝐨𝐧: Evan Marnell: I'M TRYING, I PROMISE I AM 𝐎𝐧 𝐃𝐢𝐬𝐩𝐥𝐚𝐲:Cuntry Gravy // Gloria Ceren  𝐌𝐚𝐌𝐎 𝐆𝐚𝐥𝐥𝐞𝐫𝐲 (South lot of Petshop Gallery)Latent Variables, an art installation of drawings and digital/sculptural components by current MaMO resident Jessie Fisher  𝐒𝐭𝐮𝐝𝐢𝐨 𝟔𝟐 (𝘐𝘯𝘴𝘪𝘥𝘦 𝘗𝘦𝘵𝘴𝘩𝘰𝘱 – 2729 𝘕. 62𝘯𝘥 𝘚𝘵𝘳𝘦𝘦𝘵)Art Lounge Open Hours 7:00 – 10:00  𝐁𝐮𝐫𝐤𝐞'𝐬 𝐏𝐮𝐛 (6117 Maple St.)𝘞𝘪𝘯𝘥𝘰𝘸 𝘋𝘪𝘴𝘱𝘭𝘢𝘺, 𝘍𝘦𝘢𝘵𝘶𝘳𝘦𝘥 𝘈𝘳𝘵𝘪𝘴𝘵: Kennedy Chizek  𝐅𝐢𝐯𝐞 𝐍𝐢𝐧𝐞 (6105 Maple St.)𝘞𝘪𝘯𝘥𝘰𝘸 𝘋𝘪𝘴𝘱𝘭𝘢𝘺, 𝘍𝘦𝘢𝘵𝘶𝘳𝘦𝘥 𝘈𝘳𝘵𝘪𝘴𝘵:  𝐋𝐨𝐯𝐞𝐫 𝐋𝐮𝐱𝐮𝐫𝐢𝐞𝐬FREE GIFTS and the Tunnel of Love!  𝐄𝐥𝐞𝐯𝐞𝐧 𝐄𝐥𝐞𝐯𝐞𝐧 (6061 Maple St.)𝘍𝘦𝘢𝘵𝘶𝘳𝘦𝘥 𝘈𝘳𝘵𝘪𝘴𝘵:  𝐁𝐞𝐧𝐬𝐨𝐧 𝐁𝐫𝐞𝐰𝐞𝐫𝐲 (6059 𝑀𝑎𝑝𝑙𝑒 𝑆𝑡)𝘞𝘪𝘯𝘥𝘰𝘸 𝘋𝘪𝘴𝘱𝘭𝘢𝘺, 𝘍𝘦𝘢𝘵𝘶𝘳𝘦𝘥 𝘈𝘳𝘵𝘪𝘴𝘵: Emma Geiger  𝐇𝐚𝐫𝐝𝐲 𝐂𝐨𝐟𝐟𝐞𝐞 𝐂𝐨. (6051 Maple St.)Originals Only: Local Music Showcase hosted by Mad Darling
𝑳𝑨𝑻𝑬 𝑵𝑰𝑮𝑯𝑻 – 𝕒𝕗𝕥𝕖𝕣 𝟡 𝕡𝕞 𝐒𝐡𝐚𝐤𝐞𝐝𝐨𝐰𝐧 𝐒𝐭. 𝐓𝐚𝐯𝐞𝐫𝐧 (2735 N. 62nd St.)  𝐑𝐄𝐕𝐄𝐑𝐁 (6121 Military Ave.)The Good Life w/ Doom Flowerhttps://www.facebook.com/events/1218586925486682  𝐓𝐡𝐞 𝐖𝐚𝐢𝐭𝐢𝐧𝐠 𝐑𝐨𝐨𝐦 𝐋𝐨𝐮𝐧𝐠𝐞 (6212 Maple St.)Max and Iggor Cavalera w/ Exhumed and Incitehttps://www.facebook.com/events/190632627164736  𝐓𝐡𝐞 𝐒𝐲𝐝𝐧𝐞𝐲 (5918 Maple St.)  𝟏𝟎𝐅𝐨𝐫𝐰𝐚𝐫𝐝 (7224 Maple St.)DJ Spencelove 𝐏𝐄𝐑𝐊𝐒!Don't forget! Friends of BFF receive special PERKS every First Friday! Become a member at bffomaha.org/friend and enjoy these perks!
𝗕𝗲𝗻𝘀𝗼𝗻 𝗕𝗿𝗲𝘄𝗲𝗿𝘆 // Half off draft beer (3-6) 𝗕𝗲𝗲𝗿𝗰𝗮𝗱𝗲 // $1 off tap beers until 7. $1 off Sangria all night 𝗕𝘂𝗿𝗸𝗲'𝘀 // Pub BOGO for a penny apple pie shots (3-6) 𝗕𝘂𝗿𝗿𝗶𝘁𝗼 𝗘𝗻𝘃𝘆 // Free cinnamon crisp w/ purchase (dine in) 𝗖𝗵𝗶𝗻𝗴𝗼𝗻 // Buy one get one TACOS 𝗘𝗱𝗴𝗲 𝗼𝗳 𝘁𝗵𝗲 𝗨𝗻𝗶𝘃𝗲𝗿𝘀𝗲 // free cookie with drink purchase 𝗜𝗻𝗳𝘂𝘀𝗶𝗼𝗻 𝗕𝗿𝗲𝘄𝗶𝗻𝗴 // $1.00 off all drafts 𝗝𝗮𝗸𝗲'𝘀 // Half off Sangria on tap 𝗞𝗮𝗶 𝗧𝗲𝗶 // Buy one get one SAKE 𝗦𝘁. 𝗔𝗻𝗱𝗿𝗲𝘄𝘀 // $1 off Tap Beers until 7. $1 off sangria𝗦𝘁𝗮𝗿 𝗗𝗲𝗹𝗶 // 10% off your purchase𝗧𝗲𝗱 & 𝗪𝗮𝗹𝗹𝘆'𝘀 // FREE scoop of ice cream𝗧𝗵𝗲 𝗦𝘆𝗱𝗻𝗲𝘆 // $1.00 off all drinks
𝐒𝐀𝐅𝐄𝐓𝐘 𝐅𝐈𝐑𝐒𝐓 𝐅𝐑𝐈𝐃𝐀𝐘 Get reacquainted with the 𝐒𝐚𝐟𝐞𝐭𝐲 𝐅𝐢𝐫𝐬𝐭 𝐅𝐫𝐢𝐝𝐚𝐲 𝐏𝐥𝐞𝐝𝐠𝐞.BFF Omaha's "𝐒𝐚𝐟𝐞𝐭𝐲 𝐅𝐢𝐫𝐬𝐭 𝐅𝐫𝐢𝐝𝐚𝐲 𝐏𝐥𝐞𝐝𝐠𝐞.," states that your establishment will encourage, expect, and strive to maintain a safe environment, with a zero tolerance policy towards harassment and assault. If visitors feel unsafe at any time while in your establishment, staff or someone of authority will promptly take steps to address the situation, or if necessary remove the person(s) responsible and/or notify the proper authorities. Keep and Eye Out for our 𝐒𝐚𝐟𝐞𝐭𝐲 𝐅𝐢𝐫𝐬𝐭 𝐅𝐫𝐢𝐝𝐚𝐲 buttons worn by BFF volunteers and decals in business windows. In the event you need help, look out for the 𝐓𝐫𝐢𝐚𝐧𝐠𝐥𝐞 𝐒𝐚𝐟𝐞𝐭𝐲 𝐅𝐢𝐫𝐬𝐭 𝐅𝐫𝐢𝐝𝐚𝐲 𝐁𝐨𝐨𝐁𝐮𝐭𝐭 𝐁𝐚𝐝𝐠𝐞 or 𝐅𝐢𝐫𝐬𝐭 𝐅𝐫𝐢𝐝𝐚𝐲 𝐒𝐚𝐟𝐞 𝐒𝐩𝐚𝐜𝐞 𝐏𝐥𝐞𝐝𝐠𝐞. This person and/or business will be able to help! For more information and to sign the pledge on behalf or your business, please visit bffomaha.org/aboutLet's keep each other safe! 𝙱𝙵𝙵 𝚂𝚊𝚏𝚎𝚝𝚢 𝚃𝚒𝚙𝚜 Never walk alone after dark – ask a friend, area staff, or BFF staff/volunteer to walk you to your car Don't drink and drive – call a safe ride, take the bus, phone a friend! COVID-19 is still afoot – please get vaccinated, be safe, wear masks, and do NOT attend First Friday if you are feeling ill. 𝐒𝐇𝐎𝐏 𝐁𝐅𝐅 𝐎𝐌𝐀𝐇𝐀! 𝐁𝐔𝐘 𝐅𝐑𝐎𝐌 𝐅𝐑𝐈𝐄𝐍𝐃𝐒!Support BFF in our mission of building community through arts engagement by purchasing official merch from the BFF Shop! Visit shopbffomaha.myshopify.com and add some things to your cart! 𝐓𝐇𝐀𝐍𝐊 𝐘𝐎𝐔 𝐓𝐎 𝐀𝐋𝐋 𝐎𝐔𝐑 𝐅𝐑𝐈𝐄𝐍𝐃𝐒 𝐎𝐅 𝐁𝐅𝐅! 𝐂𝐀𝐏𝐓𝐀𝐈𝐍'𝐒 𝐂𝐋𝐔𝐁 Benson Brewery @bensonbrewery  First Interstate Bank FNBO @fnbo  Mutual of Omaha  Ted & Wally's Ultra-Premium Homemade Ice Cream n Benson @tedandwallys 𝐁𝐔𝐒𝐈𝐍𝐄𝐒𝐒 BarchenThe Byrd Bath @the_byrdbathDogGurtFive Nine @shopfivenineGreg Grossman, IncHeather Tedesco Realtor, BHGREJake's Cigars @jakesomahaJimmie Johns Maven Social Omaha Roller Derby Radial Arts Center @radialartscenter Saint Paul Benson @saintpaulbenson Shakedown Street Tavern @shakedownstreettavern Sundee Event Venue @sundeeeventvenue The Sydney @thesydneybenson Taco Co. @handmadetacos ᴡᴇ ʟᴜᴠ ʏᴀ!BFFs
Don't see your organization's event?