Welcome to the KVNO Arts Calendar!
 — dedicated to promoting the growth and appreciation of the arts in the Omaha community.
Winter Light
December 10 @ 3:00 pm

-

5:00 pm

Pay as you can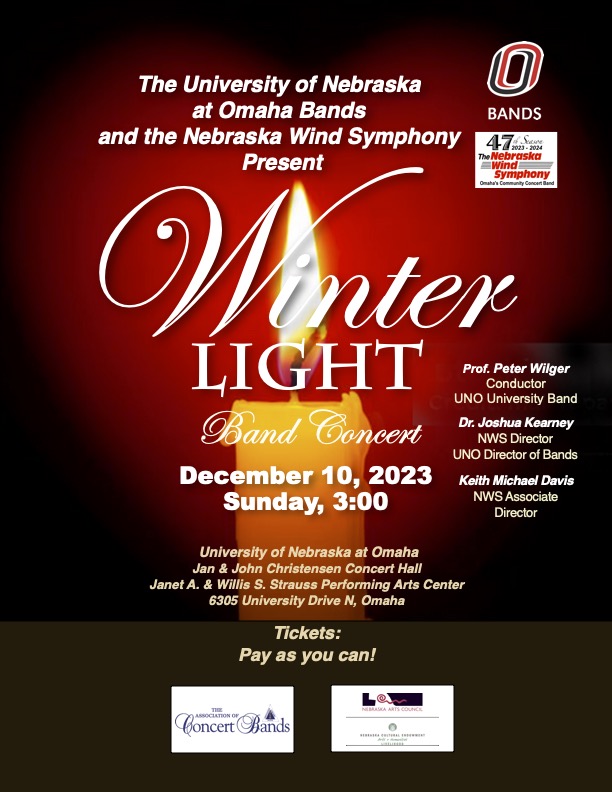 We invite you to join the UNO University Band and the Nebraska Wind Symphony for a shared concert on December 10th at 3 PM in the Concert Hall at Strauss Performing Arts Center. The program will begin with the University of Nebraska at Omaha's University Band. Under the direction of Prof. Peter Wilger, the University Band is a non-auditioned ensemble open to all UNO students, faculty, and staff. The instrumentalists involved in this group perform a large variety of high-quality music for winds and typically give two concerts per semester. At this concert, the University Band will perform Kalos Eidos by Carol Britten Chambers—a musical representation of a kaleidoscope, movements from Ritmos de la Tierra by Victoriano Valencia, and Incandescence by Adrian B Simms.
Following the University Band, the NWS will perform repertoire selected from the following: Joyride by Michael Markowski, The March of the Toys by Victor Herbert, the lovely Winter Milky Way by Yukiko Nishimura, L'Arlésienne Suite No. 2, "Farandole" by Georges Bizet (a classic conducted by NWS Associate Music Director Keith Davis), The Eighth Candle by Steve Reisteter, Minor Alterations by David Lovrien (guest conducted by Pete Wilger—this one puts a minor twist on some of your favorite holiday songs), and finally the enigmatic Sketches on a Tudor Psalm by Fisher Tull ​​based on a sixteenth-century setting of the Second Psalm by Thomas Tallis.
Don't see your organization's event?