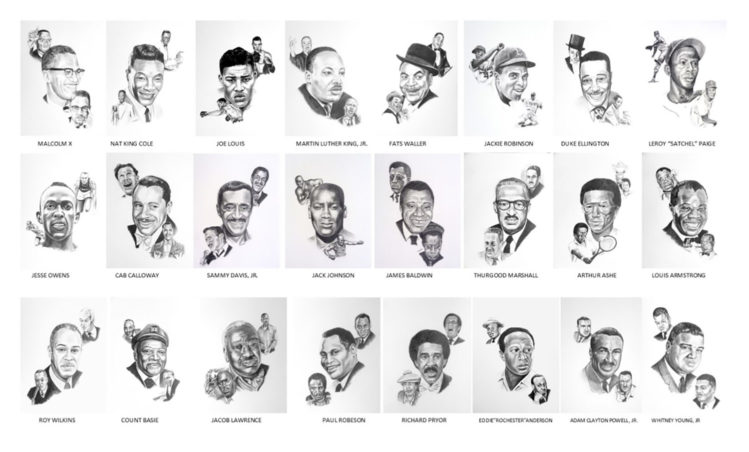 Years of Black History, Captured in Pencil by a Retired Art Teacher
July 12th, 2021
In 1921, Bessie Coleman received the first pilot's license issued to an African American woman and a Native American woman. The license was issued by the FAI, the aviation licensing body of Europe.
Coleman, a bravely independent and determined woman, sought to fulfill her mother's hope for her children in this era when racism and segregation were both widespread and dictated by law.
Aviation was new to everyone in the early 1920s as air circuses introduced it to the public via exhibitions and rides. Coleman's extraordinary journey reflects the racist and sexist struggles many faced across the nation, and worldwide, in the 1920s.
On April 30, 1926, at Paxon Field in Jacksonville, Florida, disaster struck as Coleman went up for a practice flight, she surveyed the ground for a suitable parachute landing site for the next day's show. She did not buckle her seat belt because it prevented her from looking over the side of the plane.
Cruising at 3,500 feet about ten minutes into the flight, the biplane accelerated and then suddenly went into a nosedive and tailspin, flipping over. Coleman was thrown from the aircraft and plunged to her death.
Coleman's willpower bears somewhat of a resemblance to Terry Diel's. Diel is 75 years old and a retired art teacher who still substitutes at South High School.
"I've always drawn. That is all I always wanted to do, I have only done art and through art," Diel Said
Diel agreed to eat lunch with me and talk about his work as an artist. He only does portraits with number 2 pencil. Seven years ago, he donated more than 40 portraits of prominent Black people to the Great Plains Black History Museum in North Omaha.
"So I did a whole series, 20 famous Black women, and to go along with that I did about a twenty-some famous black man, Diel said, anything from Sammy Davis Jr. to Satchel Paige."
Diel enjoyed doing all the portraits but one stands out for him.
"Bessie Coleman would be my pick out of the women, simply because she was very determined, " Diel said.
Diel grew up in a town in Oklahoma. Later in his life, he studied and taught in different states. He met his wife, in Kansas. Before retiring, they settled in Omaha.
Diel says he has always been able to create an excellent connection with his students, especially those at South High.
Diel's exhibit is permanently in the Great Plains Black History Museum, but he feels that his portraits now have a different meaning than they did seven years ago when he began painting them.
In the past year, substitute teachers have been busier than ever, but Diel hopes to have time to write a novel that has been in his mind for years.