KVNO Live Symphony Broadcast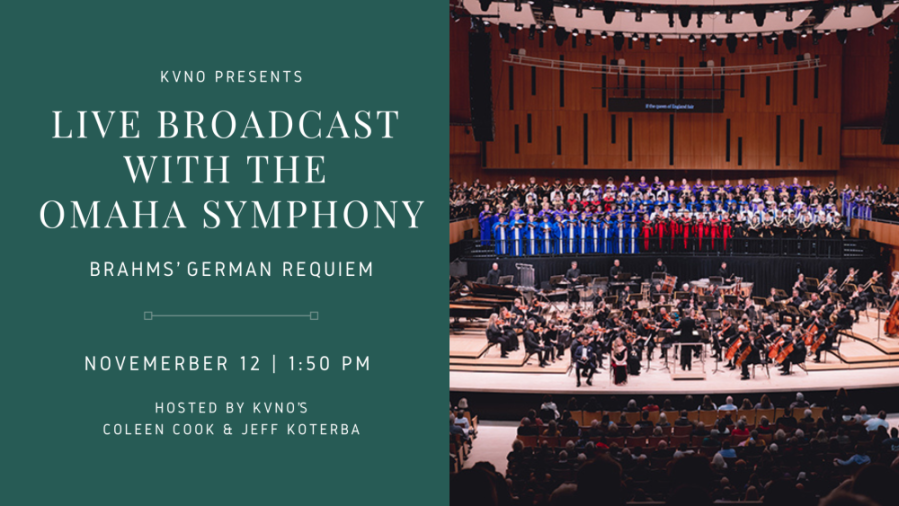 Join KVNO on Sunday, November 12th, for a live broadcast of the Omaha Symphony Choral Collaborative
Brahms' German Requiem
Coleen Cook, host of Classical Commute, and Jeff Koterba, host of Wednesday Morning Classics, are joined by hundreds of incredible high school choristers as they come together with the orchestra in performing a choral masterpiece conducted by Maestro Ernest Richardson.
Brahms' German Requiem is a powerful and emotional choral masterpiece that is often regarded as one of the most significant works of the Romantic era. Along with professional singers, this gigantic performance includes your Omaha Symphony and over 300 high school choristers. The piece features exquisite orchestration, soaring vocal melodies, and intricate choral arrangements that are designed to evoke an astounding range of emotions. Composed in response to a deep personal loss, Brahms imbued the work with a sense of consolation and comfort that is both grand and intimate, evoking a sense of spiritual transcendence that is sure to leave a lasting impression.
The live broadcast begins at 1:50 p.m., and you can hear it on 90.7 FM, on the KVNO app, or streaming from our website or your smart speaker.
This year's participating school choirs:
Abraham Lincoln High School, Bellevue West High School, Bennington High School, Creighton Prep High School, Millard South High School, Omaha North High School
For tickets and more information about the concert, visit omahasymphony.org.