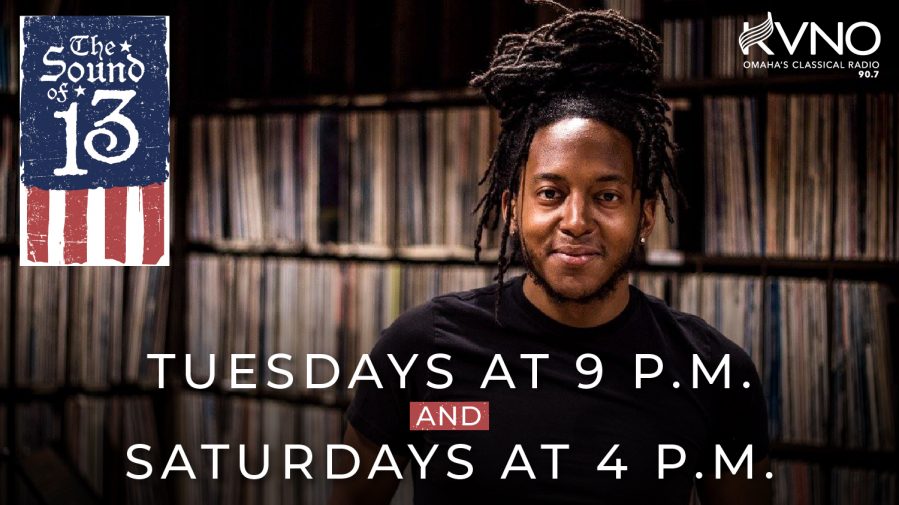 Opening a conversation about race using classical music and the 13th amendment as a guide
Season two of The Sound of 13 begins airing on KVNO Tuesday, June 14th. We're excited to bring back this groundbreaking program to our airwaves and syndicate it to a number of classical music stations around the country. Hosted by classical musician and media professional, Garrett McQueen, The Sound of 13 seeks to open a conversation abut race using classical music and the 13th amendment as a guide.
Episode Guide
Visit The Sound of 13 website to view the episode guide.
About Garrett
A proud native of Memphis, TN, Garrett McQueen is a bassoonist who has performed as a member of the South Arkansas Symphony, Jackson Symphony, American Youth Symphony, Memphis Repertory Orchestra, the Eroica Ensemble, and most recently, the Knoxville Symphony Orchestra. He has also collaborated with ensembles including the Sphinx Symphony Orchestra, Memphis Symphony Orchestra, the Southeast Symphony, the Artosphere and Gateways Festival Orchestras, the St. Paul Chamber Orchestra, the Louisville Orchestra, and the Detroit Symphony Orchestra. Garrett's musical career has also included solo recitals and chamber music performances across the country, master classes, guest instruction, and adjudication.  Garrett has been heard as both a performer and guest host on APM's "Performance Today", and is featured in a number of commercial recordings of orchestral and "pop" music widely distributed across the music industry. On camera, Garrett has appeared in a wide array of television programs, including Oxygen's "Snapped: Killer Couples", TV One's "Fatal Attraction", and Fox's "Glee".
Giving voice and offering space to music by Black creators and marginalized composers drives his passion for music and continues to be his primary focus as a performer. In a performance the Concerto for Bassoon and Wind Ensemble by Eric Ewazen, the composer noted Garrett's "wonderful playing" and characterized McQueen as someone who "gives a great performance of [his] piece". In 2012, McQueen's musicianship earned him the title of one of America's "most interesting classical musicians" by conductor and author of "The Real Toscanini: Musicians Reveal the Maestro", Cesare Civetta. Other notable performances from Garrett include his 2013 premiere of the Sonata for Bassoon and Piano by Afro-American composer Kevin Cornelius, the 2021 world premiere of "Miss Me" by Marcus Norris, and the orchestral premiere of "Three Songs" by the Dean of Afro-American composers, William Grant Still.  More recently, Garrett has engaged performance spaces as a conductor, and led the Marble City Opera's  world premiere of "I Can't Breathe" by Leslie Burrs and Brandon Gibson in early 2022.
In addition to remaining active in performance spaces, Garrett is the host and producer behind a number of nationally-syndicated radio programs, including "The Sound of 13" and "The Sounds of Kwanzaa", and continues to work as a guest radio host in a number of American markets. Away from the airwaves, Garrett specializes in music and racial equity presentations, with collaborators including the Gateways Music Festival, the Sphinx Organization, the Kennedy Center, the Apollo Theater, the San Francisco Symphony, and countless schools, colleges, and universities. Garrett has also offered keynotes for events hosted by the Black Music Experience, the Minnesota Music Teachers Association, New Music Gathering, and the MacPhail Center for Music. In the press, Garrett has been noted as not only a "classical agitator", but also "a Black talent in public media that you may not know, but should". In 2021, the New York Times noted his weekly podcast, TRILLOQUY, as a standout and one that is "required listening for industry leaders and listeners alike."
Garrett holds a Bachelor of Music in Bassoon Performance from the University of Memphis, where he studied with Lecolion Washington, and a Master of Music in Bassoon Performance from the University of Southern California, where he studied with Judith Farmer. Alongside working as a performer, the Executive Producer and co-host of the TRILLOQUY podcast and President of TrillWerks Media, Garrett is a contributing writer for Represent Classical and engages the arts industry as an equity consultant, guest speaker, curator, and presenter at the intersections of race, contemporary culture, and "classical" music. He serves on the board of the American Composers Forum as the Equity Committee Chair, and maintains leadership and advisory positions with the Black Opera Alliance, the Gateways Music Festival, and the Lakes Area Music Festival. Off the clock, Garrett spends most of his free time with his friend and podcast co-host, Scott Blankenship, and his boyfriend, Dell.