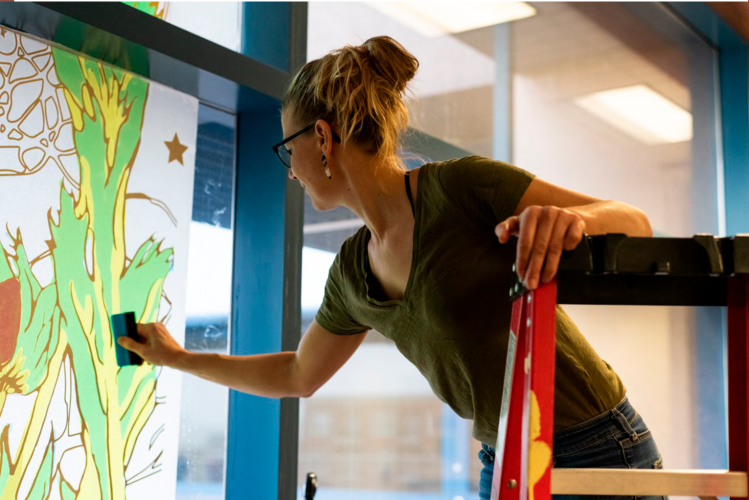 Artist Creates Sculptures with Roadkill Animals
January 3rd, 2023
To properly dispose of a deer carcass in Nebraska, one must follow the regulations per the Nebraska Revised Statute 54-2946. Often, the Sheriff can get involved in the process of keeping roads free of derbies and hazards for drivers. We commonly see remains of deer on the roads.  Looking at the remains of a dead deer may be disgusting to some, but inspiration and an endless possibility to others.
Lee Emma Running is an independent artist. She creates fascinating sculptures with roadkill animal bones, kiln-cast glass, and precious metals. In her sculptures are ribs and other deer bones carefully polished. Running says she has sufficient skeletons to choose from; easily finding bones on the side of roads. From there, she sterilizes the bones through heat and peroxide, and the artmaking begins.
Running has exhibitions that show nationally and internationally. In her exhibits, and in 2019 she completed a temporary installation in the Governor's Office in Iowa.
More recently, she completed an installation for the Department of Cultural Affairs and Iowa Arts Council. She was commissioned to do artwork in the offices' windows. Running is very familiar with that kind of work. She drew inspiration from the state's historical society materials.
Next for Running, she was just accepted to a sixteen-week fellowship for the Arts/Industry residency program at the Kohler Arts Center in Wisconsin. She will be working at the foundry with cast iron, enamel, and repairing bones with cast iron.
To see more information about Running's work, visit her webpage leerunning.com