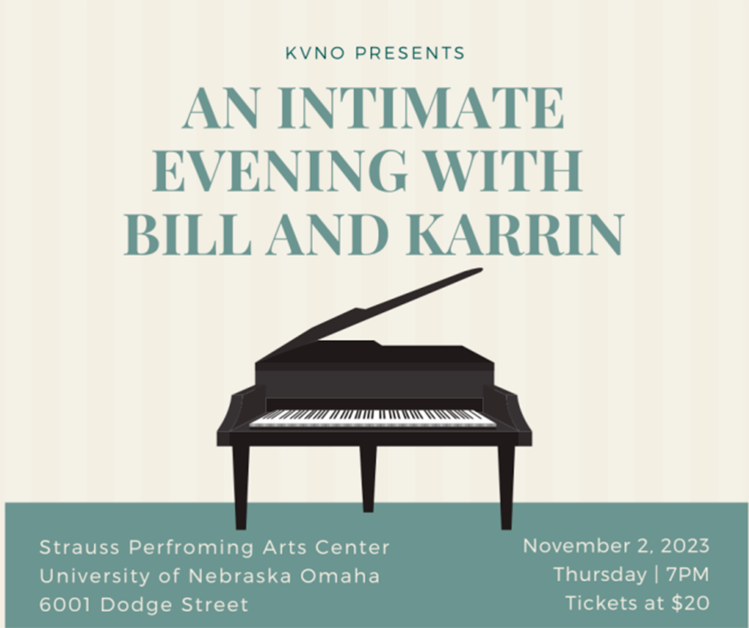 Bill and Karrin, an Intimate Evening in Omaha
October 30th, 2023
Bill McGlaughlin, a well-known figure to many KVNO radio listeners as the host of the program "Exploring Music," is coming to Omaha with her partner in life, Omaha native and jazz singer Karrin Allyson.
McGlaughlin is a distinguished American figure in the world of classical music. He is not only an accomplished composer and conductor but also a music educator.
Also, he is the host and music director for two public radio programs: "Exploring Music" and "Saint Paul Sunday."
He stood out as the sole sibling in his family who pursued a career in music but had two significant figures within his family who deeply impacted his musical journey.
He shaped his career path as a composer, and director and engaged in various musical interests.
In the meantime, Karrin Allyson a UNO grad, devoted her time to developing her skills as a jazz vocalist, pianist, composer, and music educator.
Allyson's talent has gotten her five Grammy nominations.
Together, they have taken their musical talents to many places across the globe.
Additionally, they co-host the popular B and K cafe radio show, further setting up their musical partnership.
This Thursday, November 2ndover at the Strauss-Portrait Center, "An Intimate Evening with Bill McGlaughlin and Karrin Allyson" doors open at 6:30 pm. And the performance starts at 7.
This event is poised to offer engaging conversation, laughter, and soul-stirring music.
As a couple, they may have occasional disagreements about how things should be done on stage, but their shared passion always leads them to a fair resolution.
For further details and ticket information about this "intimate evening," you visit: https://kvno.org/