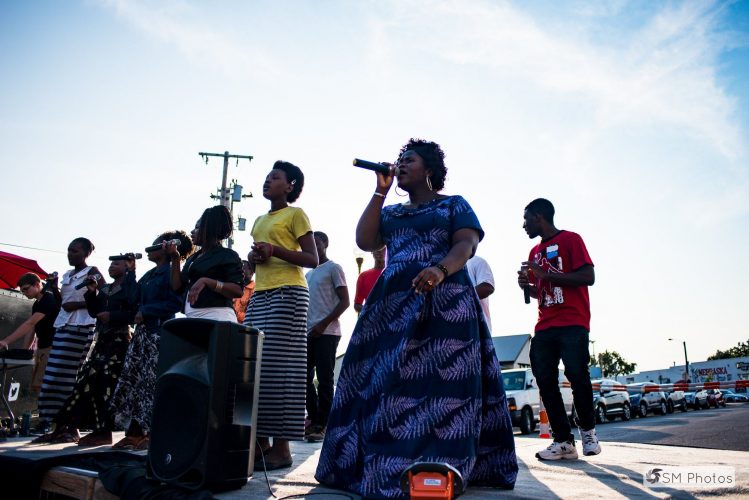 Doing the work and having fun at New American Arts Festival
August 1st, 2022
"When you go out and you support local, and you're supporting our new American Artists, you are really showing that you care about your community and that you want to live in a place that is inclusive," said, BFF communications director, JP Gurnett. "So the purpose of the New American Arts Festival is to celebrate the local immigrant, refugee, and migrant community through the arts."
This week will mark the ninth annual New American Arts Festival in Benson. The festival will kick off Tuesday with a showing of the film, Limbo.
Limbo follows a Syrian musician and his fellow refugees as they wait for answers to their requests for asylum in Scotland.
Alongside the Film Streams presentation, the night will include performances afterwards.
"This will be a night of music, dance, food and art," Gurnett said. "We are really happy to do a special screening of Limbo. It's a 2020 film and after that we are going to have performances by Oscar Rios Pohirieth and Omuco Waco who will be performing outside."
That event will also feature authentic African and Mediterranean food from Zaytuna and Chaima food trucks. This opening night will be taking place at the Ruth Sokoloff Theatre, but after that, the festival will commence Friday night at 5pm in Benson.
Friday night will feature multiple vendors as well as community tables hosted by Refugee Women Rising, Refugee Empowerment Center and the Immigrant Legal Center.
Visitors can also find performances by multiple artists, as well as art at the BFF Gallery and Radial Arts Center.
Having the event focused on the art and lives of immigrants and refugees is something that Omaha needs, Gurnett said.
"I think that a lot of the time, we can really say that all are welcome or that we are an inclusive community, but we're not doing the intentional work, such as inviting people, doing the work of connecting with different communities," he said.
At the end of the day, Gurnett said this festival is about way more than just getting to see some beautiful art.
"In the nine years that we've done that we've had artists that are newly arrived to this country who've really been able to find a career, find a community, and so they end up coming back year after year," Gurnett explained. "This is really fun when you can see people really make that shift from "Oh, I just make things," to "I'm an artist and I have something that I want to share and that I want to say.""
The sense of community that this festival inspires is what keeps artists and festival attendees alike coming back each year, Gurnett said.
"If I'm going to say that I want an inclusive community, I want a place where everyone's welcome…well, I better show up, I better make myself present," he said.
To find a list of artists and a schedule of events for the New American Arts Festival taking place this week, you can visit bffomaha.org.