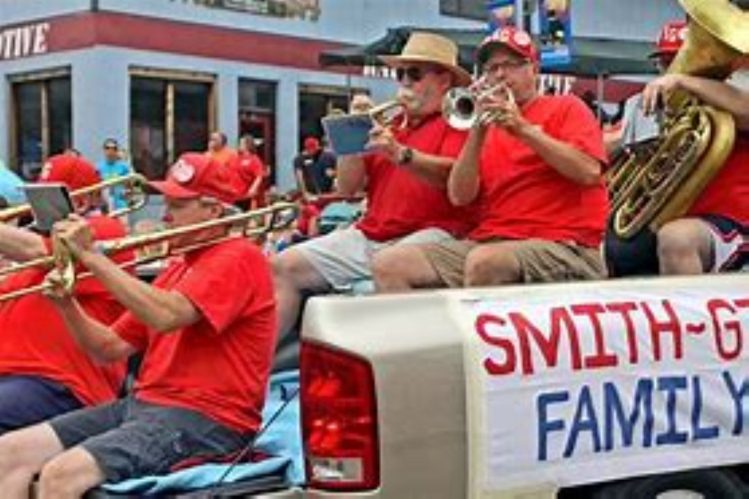 Family Band Plays in Ralston Parade for 45 Years
June 27th, 2023
Growing up, Jeff and Steave Smith lived next door to Kevin, David and Brian Gilreath in North Omaha. The Smiths' dad, Harold, was the boy's first music teacher in Elementary school. From then on, they grew up making music together throughout high school and in college while attending the University of Nebraska at Omaha. Now, they still gather together, creating the "Smith-Gilreath Family Band" and make music for the Ralston Independence Day Parade. 
Jeff Smith is a member of the SGFB. He recalls all of them wanting to participate in the parade just to put on a show that the watchers would enjoy, while they all got to enjoy playing their horns together. David Gilreath is also a member of SGFB. He says that because of Steve, they were able to get some enjoyable music to be played during the parade. 
Smith says it takes a couple weeks to prepare for the parade, starting with the band rehearsals. Gilreath says that the travel logistics part of parade preparation is a little more time consuming than the music prep. Along with the Smith and Gilreath family members, there are friends that have joined in with playing for the parade. 
The Smith's and Gilreath's have been participating in the parade for 45 years, with no plan of stopping. Even when family members moved away, they still come back to Ralston every year to be in the parade. Staying true to the family aspect of the band, David's daughter, Cristine, now joins the band and plays the trumpet. Building up quite the fan-base of parade viewers, the band always gives the crowd what they want.
The Smith-Gilreath Family Band is a fun and friendly band that just wants to create music and bring joy to the listeners. Smith and Gilreath both encourage everyone to come enjoy the Independence Day Celebration Ralston, Nebraska. Activities start at 1pm with a firework show ending the night on July 4th.