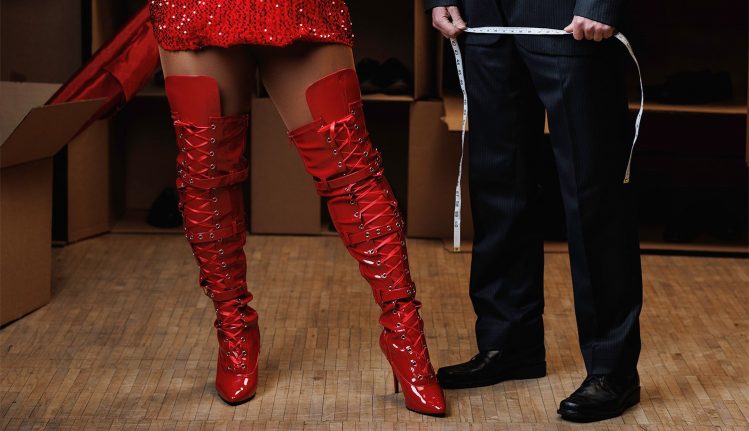 "Kinky Boots" celebrates being different
May 24th, 2022
"It's not going to sound like the Broadway show because it is going to be better, because it was created just for our community," said Omaha Community Playhouse artistic director, Stephen Santa. "So it will be unique to Omaha and to our stage and there's going to be some surprises and things that you may have never seen in the show before."
Apart from being the artistic director, Santa is also the director of the Playhouse's production of Kinky Boots, which will open this Friday.
While he only started in his current position in November, Santa said the show was originally meant to run much earlier. The timing of it now, opening just before the start of LGBTQ+ Pride month, works just as well.
"It's the perfect show to celebrate Pride because the show is really about acceptance and understanding people who may be a little bit different than you," Santa said. "It's really just a wonderful celebratory show and the perfect event for Pride."
Based off the 2005 film of the same name, Kinky Boots follows one of the show's main characters, Charlie Price, as he inherits his father's shoe business. He attempts to revitalize the company by manufacturing boots for drag queens.
The show's other leading character, a drag queen named Lola, will be played by Roderick Cotton. Cotton is a drag performer (who performs under the name "Chanel" here in Omaha) outside of the show.
Santa said Cotton told him when they started rehearsals that he had been waiting to play the part of Lola his whole life.
"I'm so excited for people to finally watch his dream come true when he gets to play this iconic character of Lola on the Playhouse stage," Santa said.
Cotton is not the show's only enthusiastic performer. Santa says the cast were all eager to get the performance ready, to the point of asking for extra rehearsal time.
That's rare, he said, but a great sign for their show's run.
"We're all for that because that just shows how invested they are," Santa said, "and how excited they are about the show and that they want it to be the best that it possibly can be."
While he believes this hard work will pay off and be noticeable for audience members, it's the message of the show that he wants to get across and send them home with.
Just like the show here in Omaha will be a unique, one of a kind experience, Santa wants viewers to remember that people are that way, too, and the best ways to gain new perspectives are speaking with new people and trying new things.
"It's all about understanding different people's perspectives, people who may think or dress or act different than you, and it's really about accepting them and learning from them and celebrating people that are different than you," Santa said.
Kinky Boots will run at the Omaha Community Playhouse from May 27-June 26, and you can find tickets at omahaplayhouse.com.