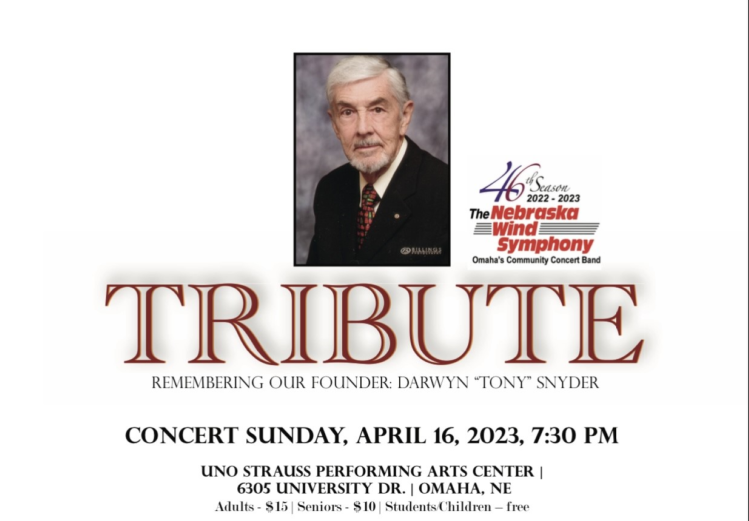 Nebraska Wind Symphony Dedicates Spring Concert to Group Founder
April 11th, 2023
Last week, KVNO spoke with members of the Nebraska Wind Symphony about the founder, Tony Snyder, who sadly passed away earlier this year. So many members who knew Snyder considered him a dear friend and close mentor. They lit up when reminiscing over Tony and his time with the symphony. 
Steve Jordan is a percussionist in the Nebraska Wind Symphony. He says Snyder was a well-respected director that wanted to see these adult musicians continue to succeed in playing their instrument and being part of an ensemble. Jordan says that aside from being a great director, Snyder was just an all-around good guy. 
Joshua Kearney is the current Music Director for the NWS. He says the group carries out Snyder's mission by still being active, even today. Kearney says that Snyder set the group up for success by providing members a positive outlet. Because of that, the symphony has now evolved in a way that includes other aspects that have a positive impact for the music community. The Nebraska Wind Symphony is an official Non-Profit organization, so there is quite a bit of work that goes towards the groups. Kearney says the members put in this effort simply because they just love band. 
Keaney is currently the 7th Music Director for the NWS. He says the symphony has provided him a different musical outlet he didn't have before, and he hopes to honor Tony Snyder while building his own legacy with the group. 
The Nebraska Wind Symphony is holding their Spring concert, where they will be honoring Snyder and his legacy, this Sunday, April 16th at the Strauss Performing Arts Center on the University of Nebraska at Omaha's campus at 7:30pm.
To find out more about the concert, visit nebraskawindsymphony.com