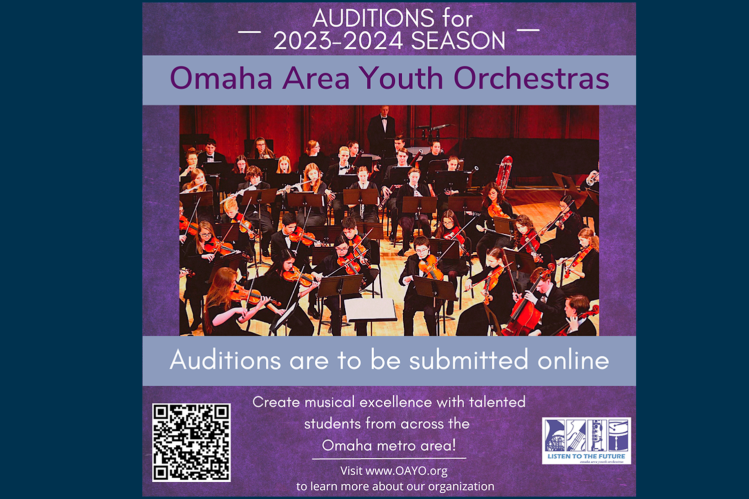 Omaha Area Youth Orchestra in the Community for 65 Years
March 6th, 2023
In 1958, The Omaha Symphony Guild and the Omaha Public Schools in the area wanted to create an orchestra for young musicians to experience playing in large ensembles. That idea grew into having multiple youth orchestras and a pipeline of musicians growing up in the community. Omaha Area Youth Orchestras, or OAYO, is designed for any young musicians who are ready to make the next leap with their playing.
Aviva Seagal has been the Music Director and Principal Conductor of OAYO for over 20 years. The Youth Symphony gets to play the same music as the Omaha Symphony, and every year they do a concert side-by-side with the Omaha Symphony.
The young musicians get the opportunity to perform on stage at the Holland Performing Arts Center. OAYO has a place for any young musician.
Segal started to play the cello at the age of five. Later in college, while majoring in philosophy, the campus orchestra was run and conducted by students, and Segal started to conduct there. Her career in conducting took a little turn when she conducted the Portland Youth Philharmonic.
Segal describes the growth of young musicians as the growth of human beings. They learn many skills like playing, communicating, and breathing together. OAYO does not turn a student away. Anyone who wants to participate will find a level of tuition that will accommodate them.
Without asking any questions, potential students can choose one of the three levels of tuition. Even if none of those work, they can figure out a way to give your young musician a place in OAYO.
From third grade until high school, students can start preparing for auditions. All auditions must be submitted by May 3rd for the 2023 and 2024 seasons.
You can find more information about auditions and concerts at: https://www.oayo.org/