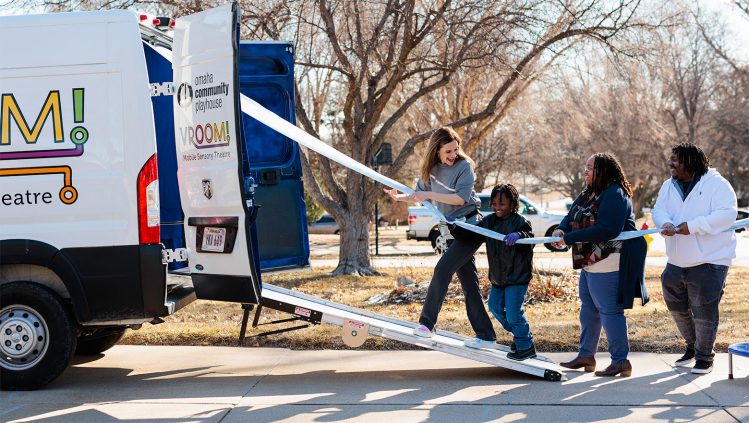 Omaha Community Playhouse Opens Mobile Sensory Theatre
June 13th, 2023
The Omaha Community Playhouse has launched VROOM! Mobile Sensory Theatre. This traveling theatre experience is designed for children with autism or other sensory sensitivities, providing a safe and personalized experience by bringing the performance directly to their home.
Katy Kepler is the Mobile Theatre Coordinator at OCP, she says that the process of getting families connected with Vroom! and having it make a stop by their home is actually quite easy!
OCP has designed the mobile sensory theater to be an experience specific to the child that will be participating. Parents just have to fill out a couple of forms that describe their child's likes or dislikes, that way the performers in Vroom! know how to make the experience as special as possible. 
An experience in Vroom! is about 30-40 minutes on average, but if the child involved wants to cut the time short, or even wants a little extra time, Kepler says that's absolutely okay! The goal of Vroom! is to break down barriers that children with sensory sensitivities may have when going to a theatre production.  
Darla Mass is an Omaha mom. Her daughter, Emma, is on the spectrum. Mass says being involved in the sensory theater is very engaging for Emma. Mass says OCP's mission with vroom is very encouraging for the kids that get the chance to become involved.
Vroom! can travel within a 30 mile radius from the Omaha Community Playhouse, and as of now, is open for kids ranging from 6-13 years old. The current experience showcased in Vroom! is called "Starshine!," and takes children on a sensory-enriched journey through the galaxy. 
To find out more about Vroom! Mobile Sensory Theatre, visit omahaplayhouse.com