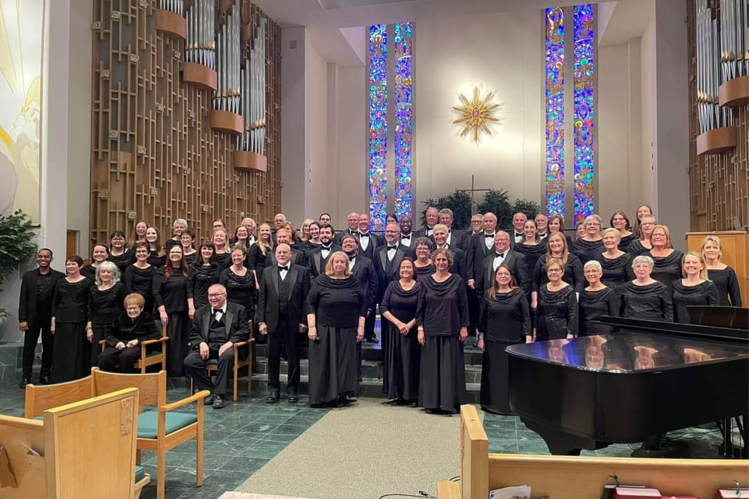 'Omaha Symphonic Chorus' Fundraiser
June 12th, 2023
Established in 1946, The Omaha Symphonic Chorus was originally founded as the "Apollo Club" by the University of Nebraska at Omaha's Dean of the School of Music. The chorus changed their name about 50 years ago.
Sue Mollner, President of the Board of the Omaha Symphony Chorus, says people often think that this chorus and The Omaha Symphony are related organizations, but it is only a similarity of the names. Mollner also sings in the choir.
"We produce all our own concerts, we do all of the management, it is an auditioned group of about 70 to 90 singers, and we produce four concerts per year," says Mollner.
The board is composed of 16 volunteers who manage everything in order for the choir to hold its concerts.
"There is quite a lot to it, it seems that a choir just stands up and sings but there is quite a lot to the administration, fundraising, and production," says Mollner.
Tom Wheeler is Vice President of the Board of Directors and sings with the chorus. He believes this group has been around for a long time because many of its members having a deep passion for music. Some members have been part of the organization for decades.
Since rehearsals are only once a week and all the work it takes to get all members musically up to speed, four main concerts per year is what they are comfortable with producing. However, the choir does some other smaller performances in town.
The most popular concert is "Christmas at the Cathedral" every December, which is recorded and then played at KNVO on Christmas Eve or Christmas Day as part of our "Sounds of the Season" programming.
Even though all members volunteer, the chorus needs funds to keep producing the concerts and pay the Artistic Director, the only paid position. Often, they hold fundraisers like the one coming up on Saturday, July 15 at the Sons of Italy Hall near Downtown Omaha.
It is a Gala and Auction to support the next season. The four main concerts are in October, December, March, and May, but the work for administrators goes on all year round.
For more information about the concerts and the fundraiser Gala and Auction coming up on July 15, you can visit: https://omahasymphonicchorus.org/