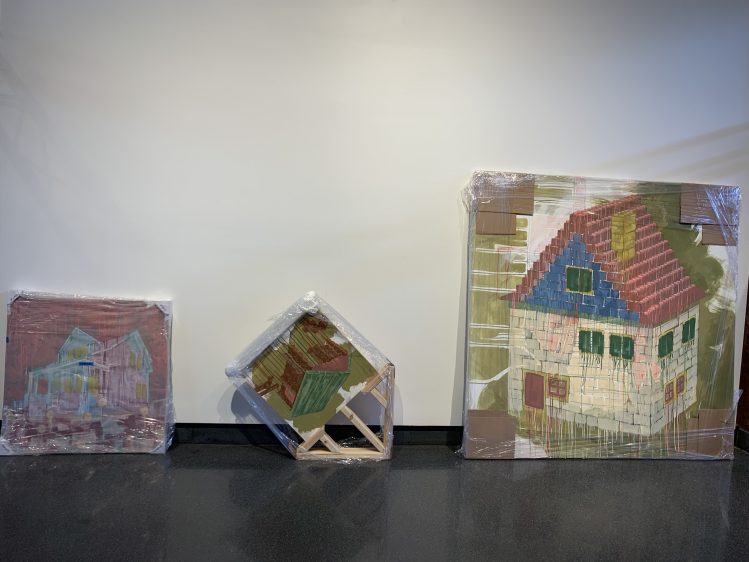 Omaha's emerging artists shine at Gallery 1516
July 11th, 2022
Oria Simonini is one of five artists who will be taking part in the Emerging Artist Exhibition at Gallery 1516, but she is not new to art by any means.
"When we use the term emerging artists, it doesn't necessarily mean someone who just got out of school, who just started," Simonini said. "The idea is that we're making art our whole lives, hopefully, so it's how these ideas evolve."
The second annual Emerging Artists Exhibition at Gallery 1516 will feature the works of five artists.
Simonini's art will be accompanied by that of Katie B. Temple. Temple was the one who submitted the application to the Gallery for herself and the artists she wanted to show with.
"I think that's what's great about the Omaha community and the arts community," Temple said. "It is very accessible and if you want to make a show happen, you can."
The exhibition is entitled I've Been Here Before, and the artists have all contributed in different ways. Temple's art, for example, focuses on houses and architecture. Simonini's works for the exhibit depict people in bodies of water.
While these two are painters, the other artists involved (Sophie Newell, Evan Stolar and Joseph Vavak) work with mixed-media and photography.
Gallery 1516's deputy director, Sara Bihlmaier, said even though the artists all use very different methods, they've all managed to convey a single theme.
"Their inspirations are all based on nostalgia, themes of home, belonging, space and the sort of the blurred lines between memories and real life and things like that. So, you'll notice lots of images of home and landscape and things that seem familiar, but maybe are a little bit different than what you expect or remember them to be like," Bihlmaier said.
While the artists stuck to one central theme for this exhibition, the art has left room up for emotional interpretation.
Simonini, for example, said her art is meant to make people examine their own perspective and privilege.
"Some of them are images that are migrants who are crossing water. Some of them were actually just people who are in water, like in the beach, or in a lake. And I'm also sort of thinking about like, how we experience bases so radically different based on who we are," Simonini explained.
Temple said there's not just one thing she wants visitors to take away from her art. Because hers is all based on the idea of home and nostalgia, Temple said she recognizes that that will look and feel a little different for everyone. She's more focused on what visitors take away from the exhibit as a whole.
"So, I think if a viewer can just come in and see the work and feel connected to the work in their own way, I think that's success," Temple said. "We're excited just to be part of the space and to be considered emerging artists in Omaha's a really good honor."
Gallery 1516's Emerging Artists Exhibition will open Friday, July 16 at 6pm, and will be available by appointment through August 28.