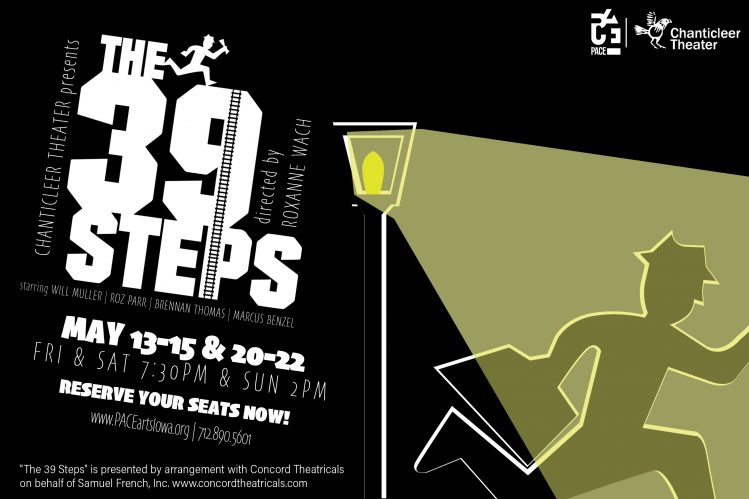 PACE offers new take on old classic
May 20th, 2022
In Alfred Hitchcock's 1935 film, The 39 Steps, there are around ten "main" characters. In the play adaptation being done by Pottawattamie Arts, Culture and Entertainment, those ten characters are played by a cast of four.
"It was written for a cast of four," explained the show's director, Roxanne Wach. "A lot of times, high schools and colleges and probably some community theaters do it. And they give all of the different parts to different people. But it's just so impressive to see it with four people."
Since it was released nearly 90 years ago, the original film has seen several adaptations. Wach said that while her show's script is almost verbatim from the original film, the actors' ability to switch from character to character makes the play memorable.
Since it's based in the UK, not only are the actors switching between different characters, but different dialects as well. There's one scene in particular that makes her especially proud.
"We call it the hat scene where the two characters play probably eight different people. They play a lot of different people and they all have a different accent and a different hat, and it's amazing," Wach said.
Another notable characteristic of the original film is its numerous locations. While on the run from the police, the main character takes a train, wanders into an isolated home and stays in a hotel.
PACE's past shows have featured some detailed sets, but they didn't really change much throughout the show.
Wach said they made some adjustments to work through the setting changes, as well as to accommodate the small cast – condensing the space, she said, gives the show a more intimate feeling.
"We have the theater boxes on the side, the box seats and then everything else is on rollers," said Wach. "Hennay's [the main character's] apartment is on two flats, and so we use multiuse things and everything just kind of rolls in and out. So we have lots of locations. It's complicated."
Wach described the show as one of Hitchcock's best comedies, and she said between that and the tight-knit cast, putting the show together has provided them all with some much-needed laughter, and she promised to bring that to their audience, too.
"I think that it's something that I certainly have forgotten about until now and now I won't forget about it again. It's important to laugh and I hope that people will come and laugh with us."
If you're in need of a good laugh, you can find tickets to the last three shows of The 39 Steps this weekend at paceartsiowa.org.