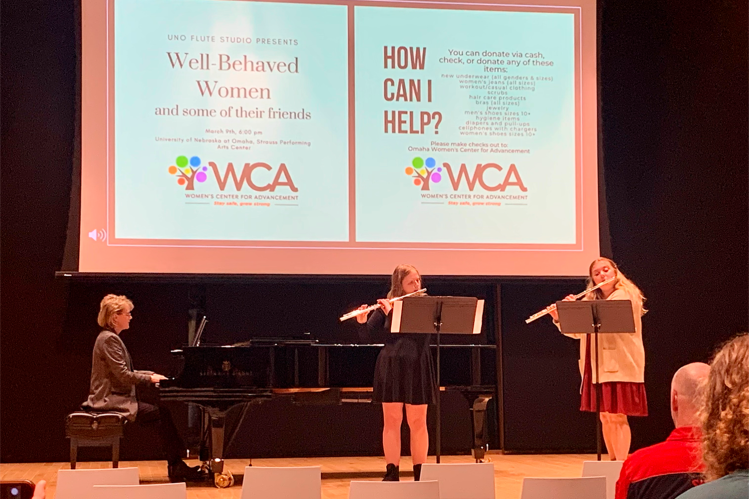 Recital and Benefit For a Cause
April 3rd, 2023
Paige Michaud is a Flute Performance major for UNO's School of Music. As a requirement for her degree, Michaud had to perform a soloist recital.
Michaud wanted to do her recital as a concert to benefit an organization that provided free assistance to women. Certain study programs denied her that option unless it had an educational standpoint. Michaud then presented a new option, and her classmates, who are also preparing for their soloist flute recital, agreed.
Michaud came across the Women's Center for Advancement, or, WCA. WCA has programs that aid victims of domestic violence, sexual assault, human trafficking, or stalking. They also provide education and prevention to lower the number of future victims.
Director of Programs for WCA, Tracy Scherer, says it's important to mention that WCA provides its services to anyone, regardless of gender. Related to WCA and the services they provide for all, the selection of composers and music for Michaud's recital was chosen not only among female composers.
Christine Erlander Beard is the Professor of Flute & International Studies and Coordinator of Woodwind Studies UNO School of Music. Beard helped and guided Michaud in the selection of the repertoire for her recital.
"Well-Behaved Women and Some of Their Friends" was the concert presented by the UNO Flute Studio, this past March, in celebration of Women's History Month, and in partnership with WCA. Monetary donations and other items of personal use for victims of domestic violence were collected.
Michaud is about to graduate, but she feels that this concert could give guidelines to other students for similar events.
People interested in donating can still reach out to: https://wcaomaha.org./