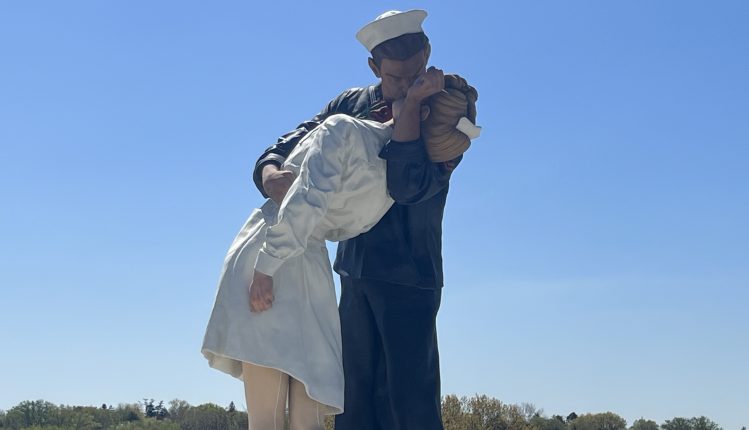 Rededicating Memorial Park on its 75th anniversary
May 24th, 2023
The Omaha Parks Foundation is a "not-for-profit organization" that supports and assists special projects for parks in the city. They often collaborate with Omaha city parks to improve and make the parks and green areas accessible, inclusive, and beneficial.
Kate Brownrigg with the Omaha Parks Foundation, says it takes a lot of work to maintain and improve the more than 200 parks we have in Omaha.
"There are a lot of groups of parks. We also work with the recreation centers, with the public golf courses, with tennis courts, and pickleball," says Brownrigg.
If you've recently driven past Memorial Park on Dodge Street, then you may have more than likely noticed the 26-foot tall sculpture "Embracing Peace" By Artist Seward Johnson. The sculpture portrays the famous photo taken of a sailor eagerly kissing a nurse in Times Square, at the end of WWII.
The photo was taken by photographer Alfred Eisenstaedt on August 14, 1945, over "Victory Over Japan Day," when WWII ended. The photo was published in Time Magazine a week later.
The sailor is suggested to be an American by the name of George Mendonsa, who passed away in Rhode Island in 2019. A woman by the name of Greta Zimmer Friedman claimed she was the woman in the photo. Greta was a dental assistant out celebrating in Times Square on V-J Day and had come to America as a Holocaust refugee.
The display of the sculpture will add to the celebrations this year of the 75th anniversary of Memorial Park.
The park's foundation has started a fundraiser to build a new plaza at Memorial Park, a plaza that was part of the original plan for the park more than 75 years ago.
Kissing Sailor Statue, otherwise known as the "Unconditional Surrender" or "Embracing Peace," is a temporary installation, and it will be here until November 15th of this year.  On June fourth, there will be a re-dedication of the memorial with the new plaza. 75 years ago, United States President Harry Truman inaugurated the park.
To find more information about the memorial park 75th-anniversary celebration, or any other projects for Omaha parks foundation, you can visit omahaparksfundation.org