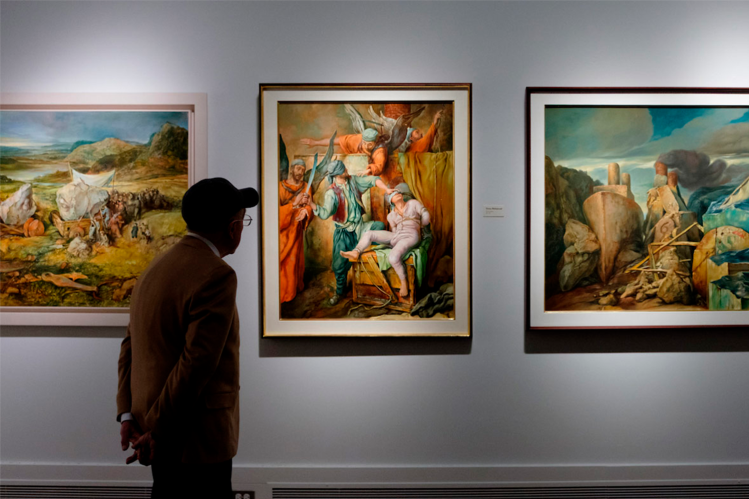 The Samuel Bak Museum Grand Opening
January 31st, 2023
Samuel Bak is a Polish-Jewish painter and writer who survived the Holocaust.
Bak says he grew up with a family that saw him as a painter, he accepted the verdict and painted simply because he loves doing it.
When Bak was six years old, World War II began, and the city of Vilnius was transferred from Poland to Lithuania. In 1941, the Germans occupied Vilnius Bak, and his family was forced to move into the ghetto. At the age of nine, Bak held his first exhibition in the ghetto, even in challenging times, he always painted. He lived his childhood in his own world as he describes it.
In 1993, he and his wife Josee moved to Boston, where they have been settling permanently. In 2001, he returned to Vilnius for the first time since his youth and has visited his hometown several times since then. Bak has created more than nine thousand pieces of art, and always with the intention of making them public.
Bak says he is incredibly lucky. There was a lot of misfortune that happened to him at an early age, but with time, he was able to do his work, being able to exhibit it, and give meaning to his survival.
The Samuel Bak Museum: Learning Center, is opening in Aksarben Village, Samuel Bak is donating 512 pieces of art. Hillary Nather-Detisch, Executive Director of the museum, thinks that it would be a great place for conversation starters.
When Bak had an exhibition of 70 works of art in the Weber Fine Arts Gallery at UNO, it attracted about 5,000 visitors within three months. After that, the idea of having a permanent museum arose. Bak only had one condition, to also have a learning center.
The museum and learning center has 5400 square feet of space, and the first exhibition will have 53 pieces.
Bak is 89 years old and is still actively painting. He will be in Omaha for the opening ceremony this Saturday, at 5:00 p.m. To RSVP for the event or for more information, you can visit bak.unomaha.edu