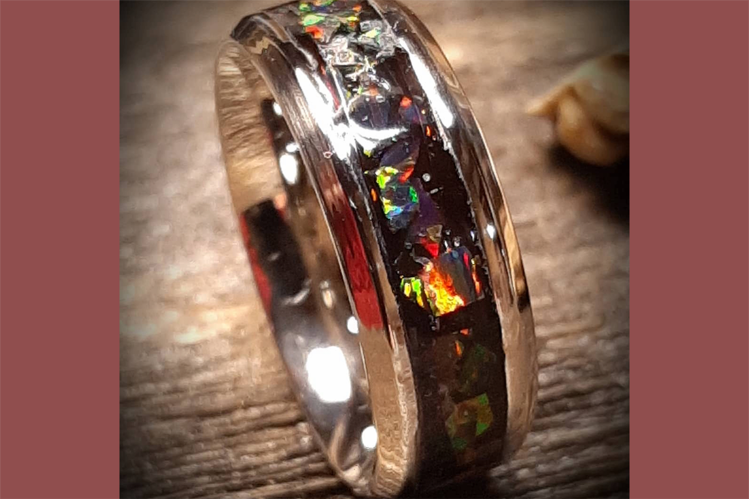 Tom Collins is Omaha's Master Ring-Maker
July 26th, 2023
Tom Collins is a musician and artist that creates work spanning from paintings, to rings, and even instruments. Creating rings has become a craft that Collins is perfecting, adding so many aspects to custom rings that are his signature spin. This includes making rings out of coins, and with lots patients, getting rings to glow in the dark! Collins says he found a way to create rings with a sentimental twist, as well. 
Collins also took up painting after being encouraged by a friend to pick up a brush. He wasn't convinced creating visual art through painting was part of his creative calling, but soon learned he enjoyed it very much. 
Collins began creating rings after getting injured during his job. His surgeon and wife both told him that the strenuous injury was cause to slow down and keep his health intact. Once he discovered ring making, a new found-hobby became Collin's focus. Showcasing his work is important to Collins. He sets up booths at different events in the area. Participating at Taste of Omaha, the Home and Garden Expo, and different fairs.
Although he's currently working on an online storefront for his work, Collins does not have a website to showcase his crafts at the moment. However, he gives credit to his current customers for getting his name out in the community. Collins works out of his home, creating his shop in the basement. He says that making his creations just doesn't feel like work to him. 
When it comes to encouraging other artists, Collins says to just believe in yourself and your craft. He says that when it comes to creating art, make it just the way you believe it should be. 
To browse through some of Tom Collin's work, you can visit his facebook pages at Toms Custom Jewelry, Toms Coin Rings, and Toms Art Gallery. Or, send an email to tomsartgallery@yahoo.com.