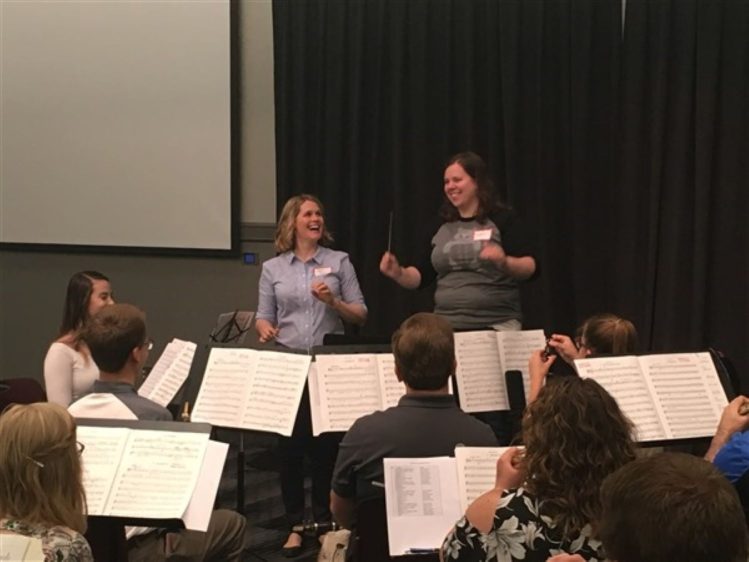 UNO Bands Hosts 5th Annual Conducting Workshop
May 30th, 2023
The University of Nebraska at Omaha's School of Music provides a multitude of opportunities for community engagement. One of those opportunities is the UNO Bands annual Conducting Workshop. Karen Fannin is the Director of the UNO School Of Music, she says this day-long workshop is a great way for participants in the area to come to campus and work with each other.
Fannin started this event five years ago, and planned out the schedule to make the timing convenient for potential participants. She says since the workshop is only a day-long event, registration is limited to 20 conductors, and they each get a specific time allotted to conduct. 
Fannin says not only is the event enjoyable, but it's an opportunity for UNO students to get to know different teachers from the area, as well. 
Joshua Kearney is the Director of Bands at UNO, he and Fannin have worked together in organizing this workshop every year. Kearney says this workshop provides participants the chance to work on their non-verbal conducting skills in a low-stakes environment. There is also the opportunity for non-conducting participants to come witness the workshop. Kearney says being an observer creates a beneficial experience, as well. 
Kearney says the repertoire for the workshop was selected to represent the different levels of conductors that will be engaging in this workshop. He says he hopes the participating conductors leave this workshop with a deeper understanding of non-verbal communication, and how efficient that skill is when it comes to teaching.  
UNO Bands fifth annual Conducting Workshop is taking place this Thursday, June 1. Although the conductor spots have been filled for the workshop this year, there is an unlimited amount of observer spots available. Fannin and Kearney are both very excited to host this workshop and expand the skills of local conductors.
For more information about this year's workshop, visit the bands page on unomaha.edu.