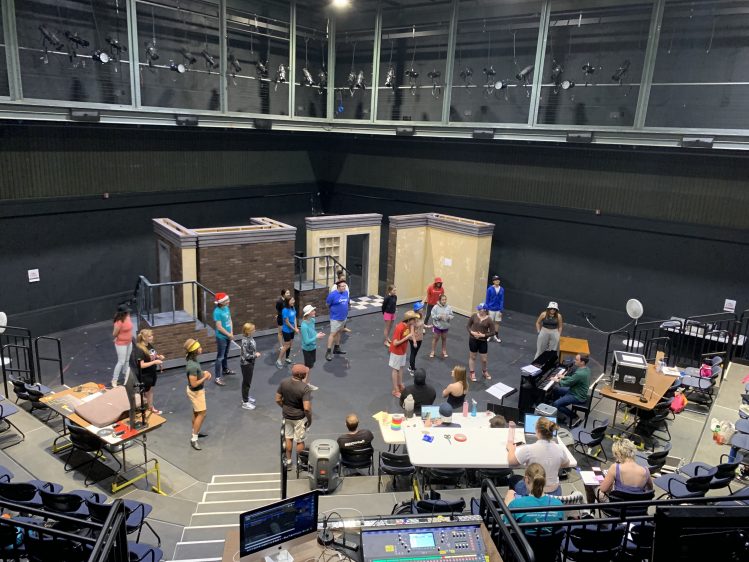 UNO Summer Musical Theatre Academy Performs "Fame"
June 27th, 2022
If you've spent any time around teenagers in the past year or so, you may have noticed that they've adopted some clothing trends from decades ago: specifically, the 80s and 90s.
It's fitting, then, that a group of them will be performing the 1980 musical Fame at the conclusion of the 2022 UNO Summer Musical Theatre Academy.
Musical director and vocal music director at Omaha South High School, Tyler Gruttemeyer, said that the musical likely conjures up a lot of memories for people who grew up in that era.
VJ Orduna, who staged the production, agreed, but noted it may not be exactly what the audience is expecting.
"A lot of the music that I think people are going to associate with the movie… it's not there," Orduna said. "A lot of those songs aren't in the show, which I think is really exciting on the one hand, but I'm going to enjoy watching the audience learn the new music that's not in the show or that they don't remember."
The Academy is a tuition-free experience that was offered for the first time this year. It features 46 high school performers and technicians and includes students from 21 Nebraska schools.
Orduna, currently based in Seattle but originally from Omaha, says that coming back to Omaha for this project felt like "coming home for the summer."
"It's the kind of thing I love to do because youth theater is the thing I keep coming back to even as I work professionally with adult actors," Orduna explained. "I've always been a part of educational theater. It's a real passion of mine."
Those who remember the musical might recall that some of the show's themes are geared more towards adults than teenagers. Gruttemeyer and Orduna described it as "adult takes on teenage life."
That hasn't slowed down any of the young performers or their dedication to the show, though.
"I think when you come in with an open mindset, I think kids really can wow you with their observations and their ability to interpret the world," Gruttemeyer said. "And especially their ability to do it musically. For me as a musician, how they sing is quite wonderful. And it really just fills up my cup every time I get to do that with them."
There will only be three performances of the show. The first two will take place July 1 and 2 at UNO's Black Box Theatre. The third will take place on Sunday, July 3, at the grand opening of the new Gene Leahy Mall.
That places these students on a brand-new stage with a once in a lifetime opportunity. Gruttemeyer said they've prepared not only through typical show preparation steps, but through a good amount of social and emotional learning as well.
"We talked a lot in the beginning about allowing themselves to be vulnerable. And become comfortable being uncomfortable and going through that process has been really fascinating to watch how far they can grow and how fast they can grow," Gruttemeyer said.
You can see proof of all that hard work at one (or several) of their performances, which will culminate July 3rd at the Gene Leahy Mall Performance Pavillion at 8:30pm. The production will be free to the public.