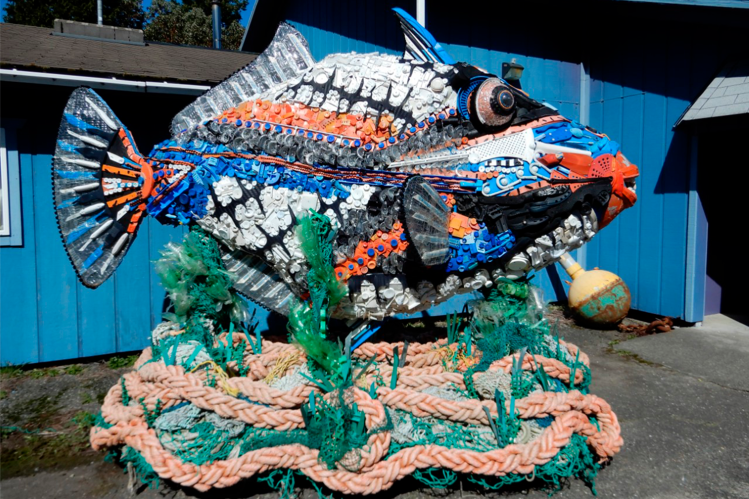 Washed Ashore "Art to Save the Seas"
January 24th, 2023
An estimated 8 million tons of plastic are dumped into the oceans each year. So, within the next decade, there could be one pound of plastic for every three pounds of fish in the ocean.
Disposable plastics such as water bottles, plastic containers, bags, and straws, all contribute to ocean pollution. This pollution has the ability to destroy ecosystems and endanger marine life. Now, let's not forget about our water resources for places far from the coasts. The Missouri and Platte rivers are the primary sources of drinking water for many in Nebraska, and these are also suffering different types of pollution.
Brad Parks is the Conservation Educator for "Washed Ashore." The Washed Ashore Project creates powerful art that draws all ages and teaches environmental conservation and sustainability. Parks also wants to create awareness of the river systems pollution.
Washed Ashore: "Art to Save the Sea," is an art traveling exhibit, and it is on display now at the Lauritzen Gardens here in Omaha. The complex,  sculptures of marine life are all made completely with ocean waste from the southern Oregon beaches.
Sand toys, flip-flops, and other things that we do not imagine can end up in the seas. We all contribute to the problem, according to Parks.
50 years ago, the U.S. passed the Clean Water Act with the goal of ensuring "fishable, swimmable" water across the United States by 1983. A recent report from the Environmental Integrity Project (EIP) states that the country has fallen far short of that goal. In fact, about half of the nation's lakes and rivers are too polluted for swimming, fishing, or drinking.
Since the 1700s, The Missouri River has been one of the world's largest lead-producing regions. Today, the river's watershed faces severe lead contamination, standing a serious threat to human health and wildlife, especially to mussel and fish populations. So far, the EPA has stabilized the major lead mining waste piles upstream of the river, and has initiated the cleanup of residential properties in many impacted areas.
Back at the Lauritzen Gardens, eye-catching figures are spread out in all the buildings. These sculptures start with a metal frame and then are designed with water waste materials collected.  The design is selected according to the colors and materials available, and none of these creations are painted. Leah Ruby, Artistic Director for "Washed Ashore" says that everything is restricted by limitations and strengths.
In itself, it is a combination of available materials, designs, and most importantly, the goals for conservation. To minimize your impact, we can eliminate disposable plastics that are not necessary for our daily habits. For example: If every person in the United States used five fewer straws each year, we could save more than 1.5 billion straws from landfills and our oceans.
Washed Ashore: Art to Save the Sea, went up for display at the Lauritzen Gardens last week and runs through May 14. For more information, you can visit https://www.lauritzengardens.org/