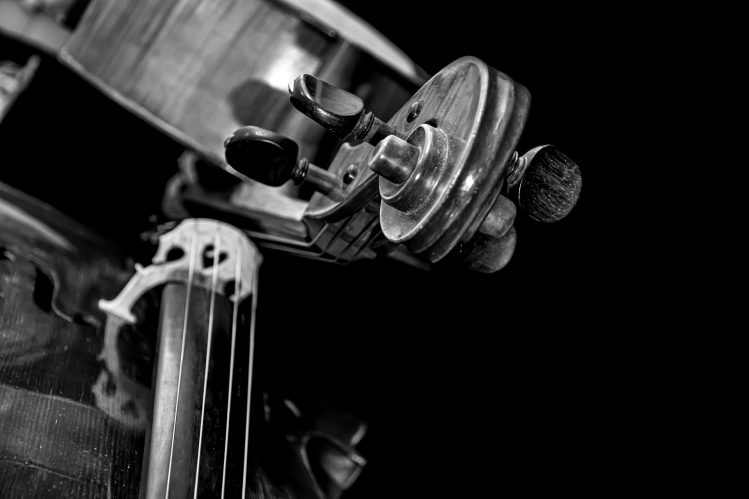 Musical Friendships
December 3rd, 2021
There are many well-known works of classical music that have interesting anecdotes attached to them: that Mozart wrote the overture to Don Giovanni the day of the premiere; that Bach could improvise four-part fugues on the organ; that Beethoven dedicated his 3rd symphony, the Eroica, to Napoleon—until Napoleon decided to try and conquer the rest of Europe, and then Beethoven scratched his name out so hard he broke through the manuscript page.
Some of my favorite stories about musical pieces are about the people behind them: composers, performers, even publishers and impresarios, and the ways they worked together. Dedications of works from one composer to another, or works written with a certain performer in mind, came about because of the relationships between the individual musicians, and we have the benefit both of getting to know that music, and of learning the stories behind the pieces.
Mozart was a gregarious figure who spent his life as a performer and a composer, literally from childhood. He knew and worked with the best musicians in his hometown of Salzburg and again when he relocated to Vienna. In several cases, he wrote music for performers who were also his friends. Horn player Joseph Leutgeb was one of them. He was an established soloist by the 1760s who moved to Salzburg and joined the court music scene there, working with Leopold Mozart and his 7-year-old son Wolfgang. They became friends and colleagues, and both ended up in Vienna in the 1780s. Mozart's three horn concertos and the Horn Quintet were all written for Leutgeb. These works have become a core part of the repertoire for horn—largely because Mozart and Leutgeb were friends.
Mozart also befriended a pair of brothers in Vienna, the Stadlers, who were excellent clarinet players. Anton Stadler in particular was an exceptional performer, playing an instrument that was rapidly growing in popularity at the time. The Stadler brothers likely performed some of Mozart's wind serenades, for example, as well as much other chamber music in Vienna. Mozart wrote his Clarinet Concerto, Clarinet Quintet, and the "Kegelstatt" Trio for clarinet, viola, and piano to feature Stadler. As with the music for horn, these works are some of the most famous among all solo and chamber works for clarinet today. (Interestingly, Stadler appears to have been a less careful friend than Mozart. Upon Mozart's death, Stadler owed him the equivalent of about 2 years' wages. Then in 1794, he went on tour across Europe and managed to lose the manuscript for the clarinet concerto, creating interpretive difficulties for performers ever since.)
Another example from the clarinet world is the friendship that arose between Johannes Brahms and clarinetist Richard Mühlfeld near the end of Brahms' life. In the early 1890s, Brahms had essentially retired from composing, but he heard Mühlfeld play several chamber works for clarinet and strings one summer and was inspired both to get to know the man he affectionately called "Fräulein Klarinette" and to write music for him to play. As a result of this friendship, the two Sonatas for clarinet and piano, the Clarinet Quintet, and the Trio for piano, clarinet, and cello flowed from Brahms' pen in the mid-1890s, just a couple of years before his death.
Brahms maintained friendships throughout his life with many other musicians, notably Robert and Clara Schumann (who were influential in launching his career) and violinist Joseph Joachim (who introduced him to the Schumanns). Brahms and Joachim met when Brahms was 20 and Joachim was 22, but since Joachim was already a famous soloist, having made a name for himself at the tender age of 12, he assumed something of a mentor role to Brahms. They remained close throughout their lives, but Brahms inadvertently inserted himself in the middle of Joachim's divorce when he wrote a letter to Joachim's wife that ended up as evidence in the divorce proceedings. For a few years the two friends had very little contact. Brahms finally convinced Joachim to forgive him by writing a double concerto for Joachim and their mutual friend, cellist Robert Hausmann. Luckily for Brahms, it worked!
A more recent example is the 20th century flautist Jean-Pierre Rampal. In addition to re-popularizing many Baroque-era works for flute, Rampal performed and recorded most of the 20th century literature for the instrument. Composer Francis Poulenc's Sonata for Flute and Piano was written with Rampal in mind, and Poulenc consulted with Rampal as he composed the work. They premiered it together in 1957 at the Strasbourg Festival, and Rampal took it on tour to the US the next year.
Composers have often paid tribute to one another through their music, whether by borrowing or quoting another's music, or by dedicating a work or works to each other. Copyright laws were not always as codified as they are now, and many composers would borrow, rework, paraphrase, vary, and otherwise develop other composers' ideas to fit their own needs, and to honor the music they themselves enjoyed. A great example is Brahms' Variations on a Theme of Haydn (lots of Brahms examples in this post—one of this writer's favorite composers!).
British composer Benjamin Britten and Russian-Soviet composer Dmitri Shostakovich cultivated a friendship in the 1960s, despite the political tensions of the time (Britten was able to embark on several tours throughout Russia and worked with several prominent Russian musicians). Britten said that "no one composing today has equal influence on me." Such was their mutual admiration that they dedicated works to each other: Shostakovich's 14th symphony to Britten, and Britten's opera The Prodigal Son to Shostakovich. Another example is Edward Elgar's Enigma Variations, in which each variation is a musical depiction of one of Elgar's friends—many of whom supported him as he launched his career.
Composers Richard Strauss and Gustav Mahler had a rivalry, as much as a friendship, but greatly admired each other's music even when they were competing for similar opportunities. Mahler, for example, was delighted by Strauss' opera Salome and tried to stage its Vienna premiere, but the Viennese censors declined to allow the opera to be performed due to its controversial plot. When Mahler passed away in 1911, Strauss was devastated, and the experience eventually resulted in his completing a work he'd previously abandoned, his Alpine Symphony.
Ralph Vaughan Williams and Gustav Holst met while students at the Royal College of Music in London and became close friends. They became each other's critics in the best of ways, pushing each other to hone their skills as musicians and composers. Holst dedicated the choral work Hymn of Jesus to Vaughan Williams, and Vaughan Williams dedicated his Mass in G Minor to Holst.
Works dedicated to other composers and pieces premiered by famous performers are evidence of the relationships these musicians maintained with each other. It's easy to forget that the names attached to these wonderful works were real people, who were making a living doing a thing they loved, and able to do so with people they enjoyed. These otherwise abstract pieces of music suddenly have a human connection, a way to imagine how the music was first conceived and brought to life. They aren't simple, static artifacts—they are a dynamic connection to our shared past.