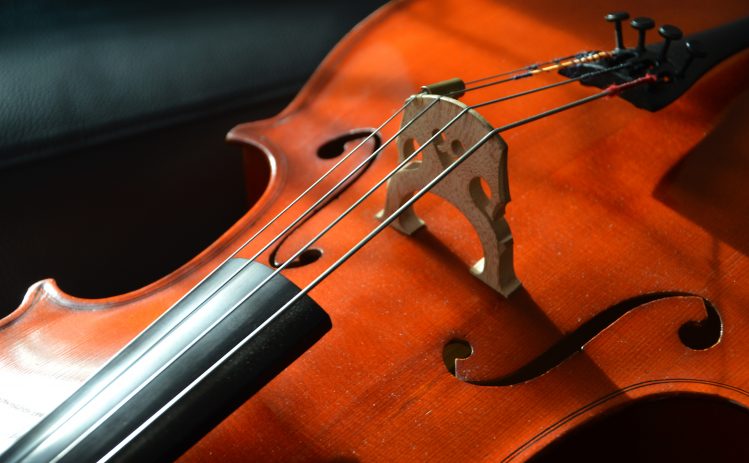 The Power of Classical Music
November 15th, 2021
You hear us say it all the time. It's our tagline. Omaha's Classical Radio. But if you have sampled us around the clock, through all seven days of the week, you have heard so many styles of music you may wonder just what is classical music.
Classical music is Bach, Beethoven, Dvorak, Telemann, Rachmaninov, Brahms, Sainte Sans, Puccini, Mozart, Listz, Chopin, Satie, Haydn, and on and on. They and so many others are what you probably think of when you hear Classical 90.7. They composed music 150 years ago, 200 years ago, 300 years ago, even 500 years ago. Our music dates back to the time when the five-line music staff and the standard notation had not been developed. There were no sharps and flats when the Gregorian chants, certainly part of classical's roots, were written. Time signatures didn't exist.
I once took an English History course back in the day, and the instructor, a very prim and proper fellow who sort of affected an English accent though he was American through-and-though, speculated that those chants were a response to the stone churches and cathedrals of the 9th and 10th centuries. The theory is that the echo that those walls created made hearing the spoken voice clearly almost impossible. But when the voice is chanted, the reverberation accentuates the music, and the message becomes clear. I do not know if that theory holds, but to be honest, even today the music is often easier to understand than the spoken word in a long, stone nave.
If you listen to recordings of those early pieces that have survived, you hear the roots that sprouted Franz Joseph Haydn, the father of the symphony, whose musical DNA is in every single symphonic composer who followed, all the way up to today.
Most of our music comes from Western composers, and more specifically, European composers. Even the Russians who wrote music were from the European end of the country. New composers continued the evolution from the chants, though the baroque, classical and romantic eras, to the 20th century. And here we are today, more than a fifth of the way through the 21st century, and the evolution continues.
Along the way, jazz has seeped in. Gershwin's music spans the spectrum from pop to jazz to classical, often within the same work. Aaron Copland embraced jazz, but not always. His roots are as deep as anyone's, and the next time Appalachian Spring, Rodeo, or Danzon Cubano plays I challenge you to find that taproot that takes you back to Beethoven. Not a copy of Beethoven, but vestigial traces. Duke Ellington built his reputation on jazz and big band,  but he wrote charts that orchestras across the U.S. and beyond put into their programs.
Stravinsky and Ravel embraced 20th century jazz in creating new-sounding, deep rooted classics with huge, clashing noises that opened new avenues, just as Beethoven did with the innovations he made in sonatas, quartets and symphonies. Modern 21st century music has, in some cases, taken dissonance, minimalism and individualism further, unpleasant to some, invigorating and exciting to others. Marches by Tchaikovsky, Strauss and Sousa find their way to our air. So does movie music, and operas from old to new. It is all, in our expansive definition, classical music.
You do not have to like it all. I do not always. But I challenge you to find your way through it. The music transcends the composers and the musicians. It will reflect every mood, evoke every emotion and reach every emotion if you listen long enough.
I will be honest, I am not a musician. Oh, I held a euphonium in high school band. I even had a solo in The Abbot, part of Carl Orff's Carmina Burana. But I stopped inflicting myself on band directors after I graduated. I also sang in high school, and some as an adult with UNO's Concert Choir. I have been lucky enough to sing Handel's Messiah with the Heartland Symphony, and both the Brahms Ein Deutsches Requiem and Beethoven's Ninth Symphony with the Omaha Symphony. I am not a student of classical music, and compared with the members of the KVNO family whom you hear on the air every day, I'm still on Book One. That does not matter a bit.
I can enjoy the music without knowing what D# minor looks like on the score. It is beyond me that Symphony #5 by Beethoven starts in C minor and ends in C major, and the only reason I know that is because I listen to our knowledgeable announcers. All I know is I get goose bumps when I hear those iconic opening notes, and nearly leap out of my seat at the triumphal end. I can find solace in Beethoven, too. Our music, the things we play on KVNO, do not just live on the air. They live in your heart and in your soul. We bring them to you 24 hours a day so when you need that dose of music, you can find it.
I, like many of you, I suspect, wish we could reach back over the centuries and hear the orchestras as the great composers and masters led them, before they really had conductors. I wish we could hear exactly how Mozart wanted his symphonies to sound, what tempo Dvorak chose for his Ninth Symphony, From the New World. I wish I could hear Franz Listz play the piano or Paganini the violin. I'd like to hear some of the symphonies of old.
Our partner in classical music here in Omaha is, of course, the Omaha Symphony, now embarking on its second century. Nebraska Public Media recently aired its new documentary about Omaha Symphony Music Director Emeritus Thomas Wilkins. Just how powerful is music? Wilkins, as a grade school boy in Norfolk, West Virginia, went with his class to hear the town symphony. When the orchestra played The Star-Spangled Banner, Wilkins said, he was captivated by the power of the sound. At the end of the orchestra's performance, he pointed at the conductor and told his teacher that's what he wanted to do.
Music's power is undeniable. It is used to evoke every emotion. It has been used to rally patriotism in times of war, as anthems of change during protests, as lullabies at bedtime, as remembrances at funerals, to calm us in turmoil, as a refuge from the chaos of the world around us. Many of you, like me, have sought out that calm over these past two years of uncertainty, and even at time, fear.
Wilkins made note of that in the documentary. Through all we have endured, he said, music has always been there. It has never diminished. Music has won. It always will. KVNO is here to bring it to you.