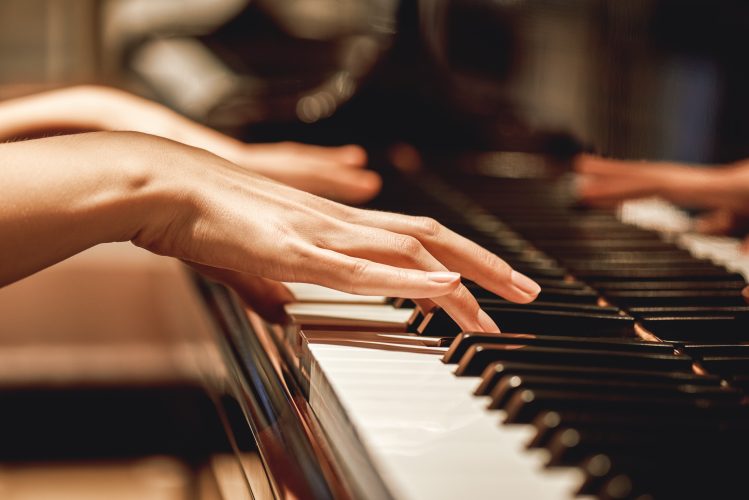 Turtle on a Fencepost
March 21st, 2022
There's an old adage about a turtle on the fence post. It goes something like this. "If you see a turtle on a fence post, you know that he didn't get there himself." It's a humorous way of summing up how some people help other people achieve greatness through their mentoring and generosity. For the purpose of this article, perhaps I should say, "If you see a turtle on a piano seat, you know he didn't get there himself." There are so many stories from classical music that illustrate this.
I love to read the stories of how various composers rose to greatness through the mentoring and generosity of other great composers.  There are many examples, but three of the great 19th century composers come to mind. Take German composer Robert Schumann, one of the most famous Romantic composers of the 19th century, and the husband of Clara Schumann. Schumann had a lifelong desire to be a concert pianist and began seriously studying piano in 1830, with teacher Friedrich Wieck. It was Wieck who mentored him to be a successful concert pianist, until a self-inflicted hand injury prevented Schumann from achieving it and in 1831, he turned to composing. His teacher Friedrich Wieck was his mentor, until Schumann fell in love with Weik's daughter Clara, who he eventually married against his piano teacher's wishes. But his teacher played an important role in his development. Clara Wieck was already famous as a pianist and she also composed music. She also became her husband's mentor, and often premiered many of her husband's piano works.
Both Robert and Clara Schumann mentored Johannes Brahms (1833-1897). It was Brahms's ability as a pianist that brought him his earliest fame. He started piano lessons when he was seven. Fortunately, he became a student of Eduard Marxsen, a teacher who gave him free piano lessons and guided his earliest attempts to compose. Marxsen also prepared him for his first public recital in Hamburg in September 1848, when Brahms was only 15.
Two years later, when Brahms was introduced to Robert and Clara Schumann, they were overwhelmed by Brahms's talent when he played several of his own compositions for them. Because of the Schumann's influence, Brahms toured extensively as a pianist in northern Europe for the next decade. He made his recital debut in Vienna in 1862, and returned there permanently in 1869. By then, his reputation as a composer was well established. Because of the Schumann's support, Brahms became the successor to Beethoven.
Johannes Brahms paid it forward by mentoring Post-Romantic Czech composer Antonin Dvorak (1841-1904). Now widely regarded as the most distinguished of Czech composers, Dvorák became one of the major figures of Czech nationalism in music. Dvorák was seen by many as the heir to Brahms, who championed Dvorák during the younger composer's long climb to the top. For three years, in the 1870s, Dvorak won a competition for a government grant designed to help the careers of struggling young creative artists. That's when He came to the attention of Johannes Brahms, who secured a contract for Dvorák in 1877 with his own publisher, Simrock. The arrangement proved to be a profitable one, and Simrock published Dvorak's famous Slavonic Dances, inspired by Brahms Hungarian Dances. In the decade to follow, Dvorák became internationally famous, thanks to a series of major symphonic masterpieces.
For Franz Liszt, it was his father who recognized his talent and gave him lessons. By 1820, nine-year-old Franz Liszt played in a series of concerts heard by a group of Hungarian magnates who offered to finance his musical education in Vienna. Franz Liszt went on to be a rock star in his time! He became so famous and made so much money by his mid-forties that virtually all his performing fees after 1857 went to charity and humanitarian causes. Liszt was known to be incredibly unselfish and generous. He taught hundreds of gifted pianists free of charge. He bankrolled the support crucial to Richard Wagner's success. He had his benefactors and he became a benefactor.
What do all of these composers have in common? They were all helped along the way by others, and achieved greatness because of it, then paid it forward. They all benefited from "the turtle on the fence post" principle. It was a group effort. It takes a village to create a great composer and performer.
I once asked Robert Levin, the piano virtuoso and former artistic director of the Sarasota Music Festival, about whether classical music would ever be broadly financially supported by the public. He said," It never has been in history, so why would it be in the future?" Levin declared that, said it's the generosity of the relatively few, who provide great music for the many. And it's that way in classical music radio too! It's because of listeners like you who support classical music at a grass roots level, that this musical cycle that has been going on for centuries continues.  
You are the patrons of today and tomorrow, the modern-day equivalent of the patrons and mentors of composers. Your efforts and generosity as our supporters perpetuate the future of classical music. Your donations boost our young Classical Kids to the fence posts of learning and performing, and send them on their way to be part of the next great generation of musicians. And who knows, maybe composers too.
We have a saying during pledge drive on KVNO: You pay, we play. We play great classical music because people like you support public radio. But we have something to play because of people who give to develop the artist.  By helping each other in our respective parts of the classical music food chain, we can keep putting those turtles on the fenceposts (or the pianos). On behalf of KVNO Radio — it's a pleasure to partner with you in this musical endeavor.