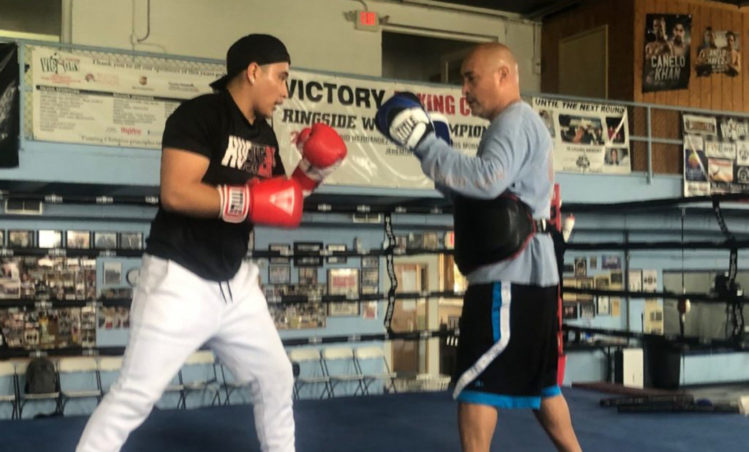 Great Comeback For This Fighter
May 25th, 2021
OMAHA – One day when Servando Perales was 9 years old, he followed his older brother to a boxing club near downtown Omaha. There, Perales found a place to unleash that fury that haunted his heart, the discontent that he had about his father. His father was drunk almost every day and abused his mother.
Perales discovered some joy punching the bag.
"And that broken environment… I mean, you have a lot of hostility built up inside, you know, and boxing is just that. It really saves kids," Perales said. "I mean, it helps them because they learn how to channel that, you know, that anger and that frustration and they learn the discipline and the self-control and be patient… I mean you have to apply that into your everyday."
Perales's mother ended up raising seven children by herself; his father left the whole family when he and his siblings were still young. In those days, punching a bag for Perales was an escape from reality, and now he has excellent stories to tell.
"I was very successful. I won a lot of fights: won the national Silver Gloves Nationals as well and I went to five state/regional tournaments as well as I was growing up. But the age of 16 is when I started experimenting with drugs," Parales said.
Drugs became more important to Perales. He still wanted to continue boxing, but his performance as a boxer soon waned. Then he started selling drugs. Soon, he found himself in a federal penitentiary serving 18 months.
In prison, he realized how the people who loved him, like his wife and mother, were being hurt by his actions and he had a big empty hole in his heart.
While still in prison he found God, and he says he asked him for another opportunity to fight, this time for what he most wanted: his family.
After serving 18 months, he wanted to fight professionally. He moved to Vegas and had some good fights, but he realized that he could do more things, that he could help young people like him, young people who may be going down the wrong path.
16 years ago in the garage of his house, the Victory Box Club opened. He started with five young students. Three years later, he was able to buy a building near 30th and R streets. Then, he created a club where he teaches young people how to box. The most important thing for him, though, is when he shares the word of God. It is now a non-for-profit organization called Victory Boxing Community Center.
"I've had so many parents throughout the years. Some are in tears, you know, because this is like the last hope for their kids because the kids are already involved in the drugs or staying out late hanging out with the wrong crowds and they just will do the best we can but it's not, you know, he's got to want it," Perales said. "But by the grace of God we have had success stories of kids that have made it out, you know, and I have (we have) two police officers now their group here."
Perales coaches roughly 25 young people at the time, and there are always about fifteen on the waiting list. Perales is committed to helping every young man who passes through the door of Victory Boxing Community Center
"I tell them, you got to cut some ties because those kids that you hang out with don't have your best interests at heart, you know, you're hurting your mom, you're hurting your dad, your little brothers, little sisters," Perales said. "They look up to you, you know, and you can go far in this sport of boxing."